---
Messages for the Graduating Class of 2020
Dear Graduates,
Lord God, heavenly Father, you see our MLC students growing to young adulthood in an uncertain and confusing world. Send your Holy Spirit into their hearts through your Word that they may grow in grace and wisdom. Give them strength to resist temptation and courage to meet the challenges of college life. Enable them to make friendships that reinforce their Christian faith and values. In the face of worldly temptations, show them the joy and value of following you into full time ministry. Make their unique gifts and youthful vitality a blessing to their families, to your Church and to all others their lives may touch, through Jesus Christ your Son, our Lord. Amen.
~ Pastor Boeder
A Message from WELS President Mark Schroeder
A Message from MLC President Mark Zarling
A Message from WELS Ministerial Education Administrator Paul Prange
Message from Athletic Director Jim Unke
Dear Graduates,
Congratulations on your graduation! It has been a pleasure and a privilege to be a part of your journey at MLC! Thank you for the various times we have been able to learn and grow together whether it was in classes, clinicals, student teaching, etc. May Jesus keep you in His tender care as you go forward to serve Him! Please keep in touch!
Dr. Cindy Whaley
Professor of Education
Licensure Officer
Public School Placement Coordinator
edTPA Coordinator
Congratulations!
Congratulations on your upcoming graduation. Although the final months of your senior year are not what you expected, don't let it diminish the joy of what you have accomplished and the high calling on which you will embark. A word of advice: There is no such thing as an ideal classroom. You will have challenging students and overwhelming days, but please remember that even though it may not seem as though you are making a difference, you are. Somewhere along the line, you will touch the heart of a child. By your patience, kindness and enthusiasm, the love you have for your Savior will shine through and impact a child's life forever. Blessings on your ministry as you bring the message of salvation to Jesus little lambs.
Yours in Christ,
Joanne Hoff
Redeemer kindergarten teacher for 25 years
Fond du Lac, WI
A Prayer from MLC's president-elect and spouse
Dear Risen Good Shepherd of the Sheep,
Guard and keep the flock we call Martin Luther College through these challenging days.
Bless all our 2020 graduates in whatever way they serve you: whether called into public ministry, continuing their education at seminary, or serving you in countless other ways.
Bless our new and returning students with an understanding that the current crisis in our world underlines the reason they are studying for gospel ministry: to give eternal hope to a dying world.
Bless our faculty and staff with faithfulness to you, zeal for their tasks, and love for all those you send to study on our hill.
Bless MLC's president and his wife, Mark and Colette Zarling, with the peace and joy of knowing that their labors these past years have not been in vain.
Give our entire synod a renewed joy in your gospel and an increasing willingness to support generously the work of that gospel with their gifts and prayers.
Hear us, for your love and mercy's sake, Lord Jesus! Amen

~ Rich & Sue Gurgel (MLC's president-elect and spouse)
Prayer for the MLC Class of 2020
God's Blessings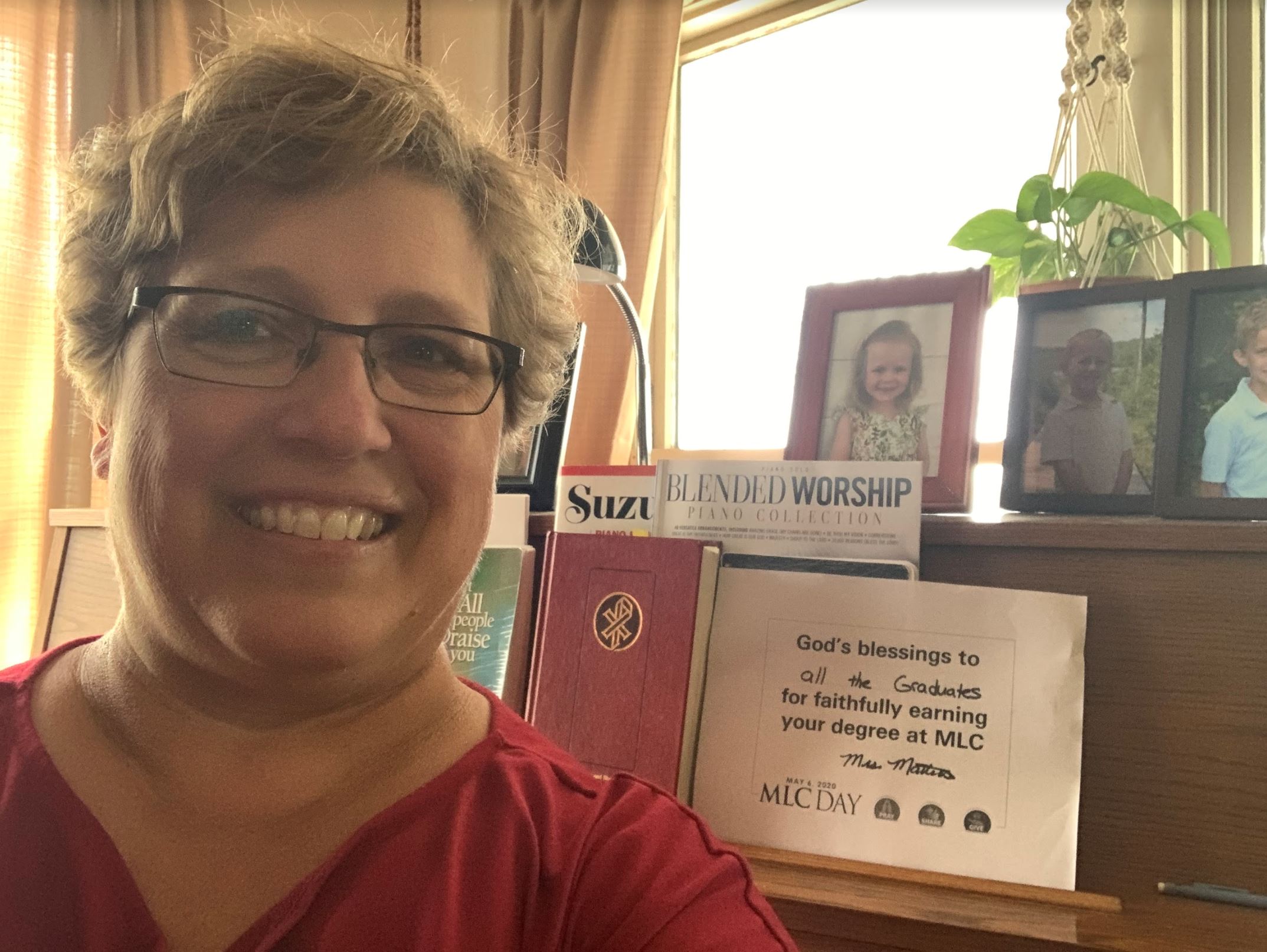 We Love Our Graduates!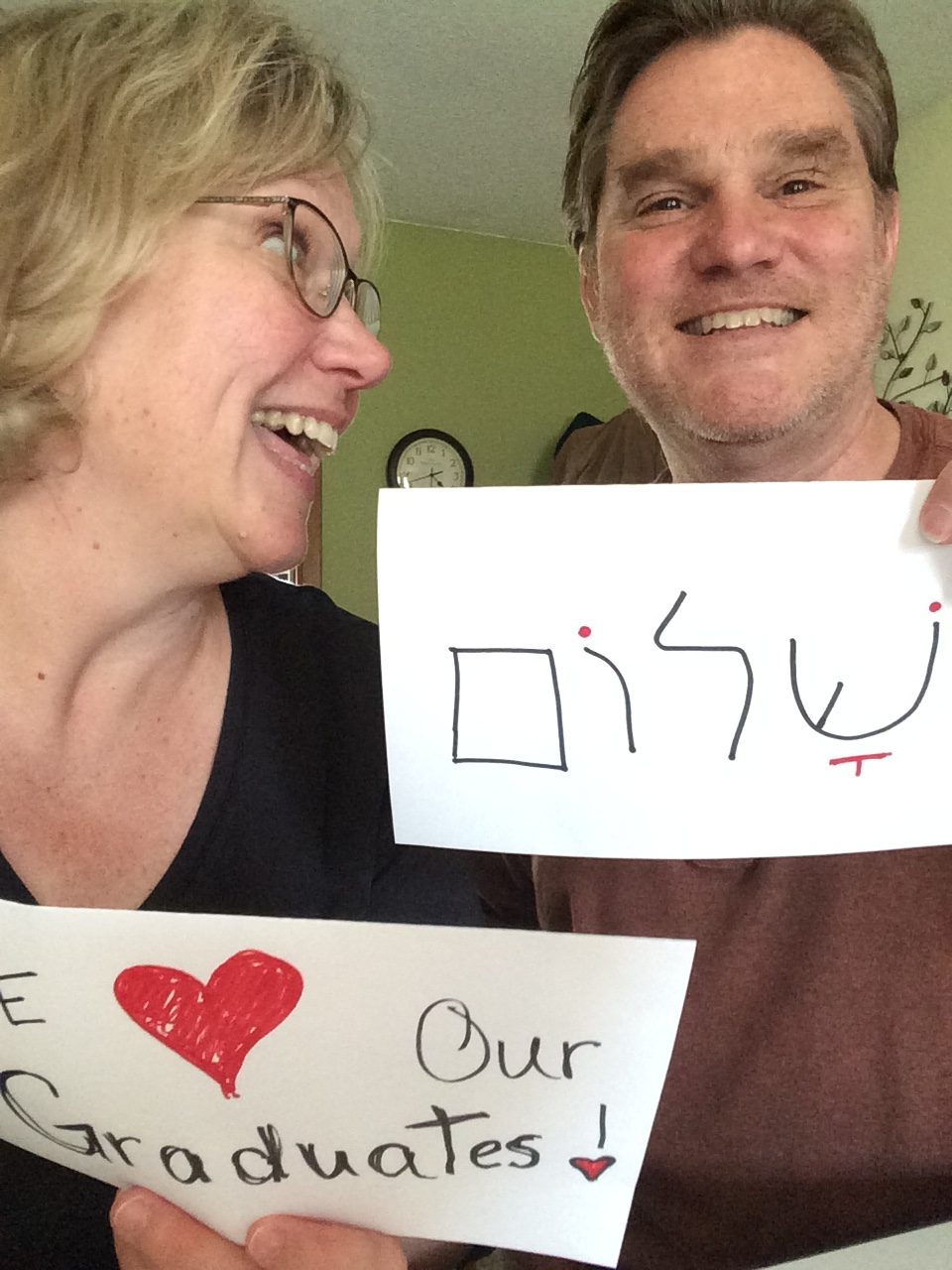 God bless you all ...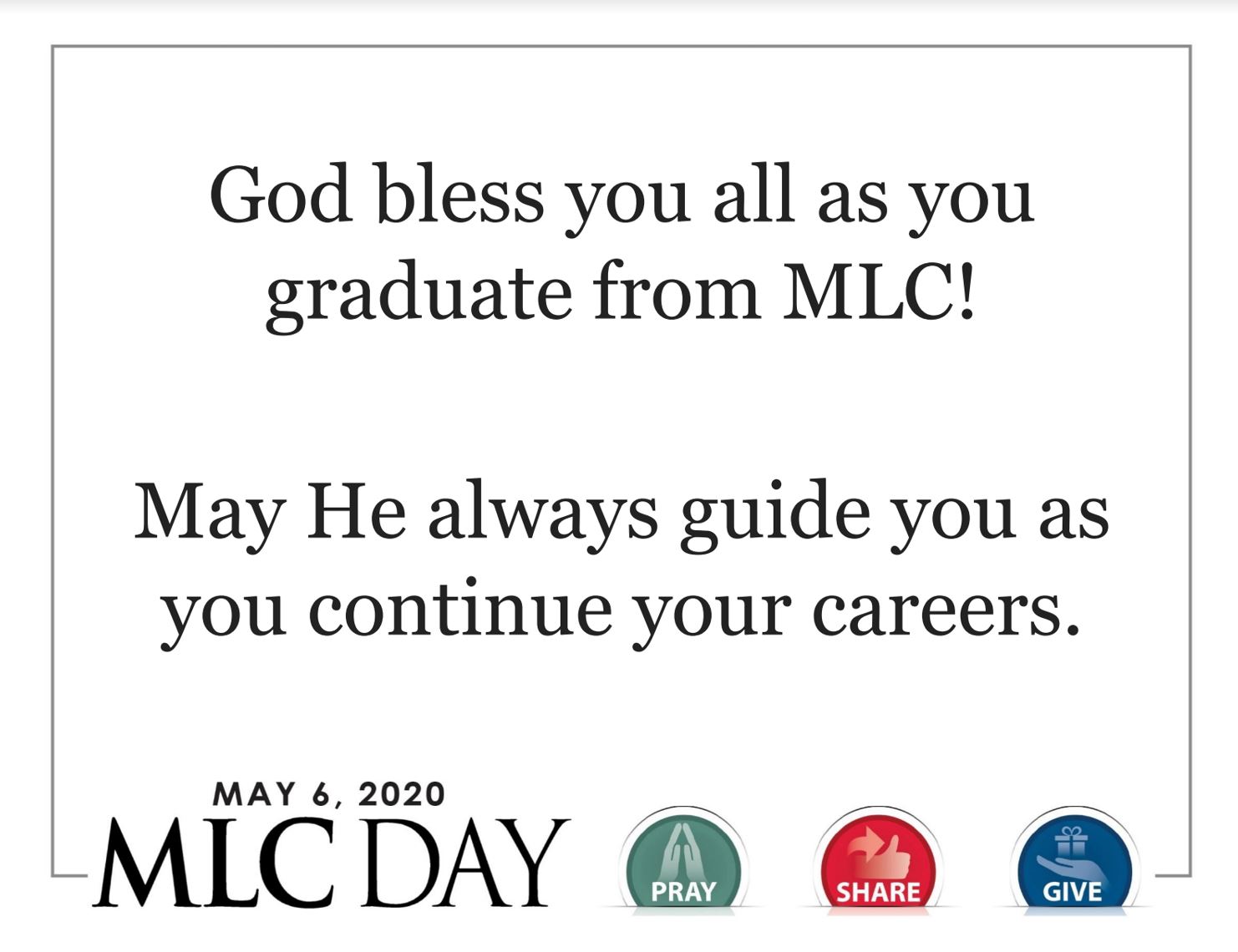 Congratulations ...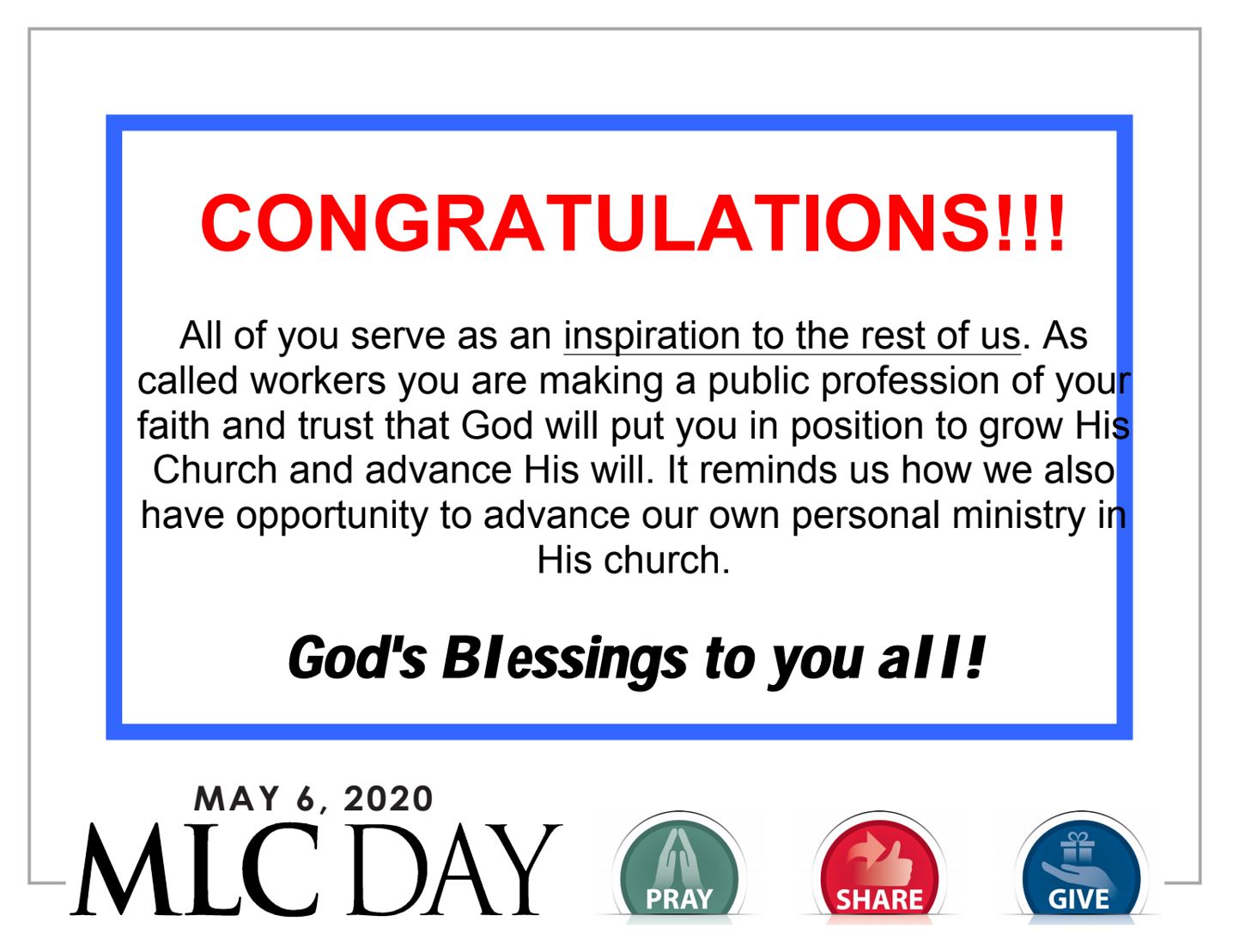 To The Graduating Class of 2020
Greetings To The Senior Class of 2020 in the Name of Our Lord and Savior - Our Great and Almighty Leader and Healer.
  My name is Sheila DeWuske (Nee:  Hughes).  I would like to congratulate and give each and everyone of you my deepest and most heartfelt blessings and my COVID-19 6ft. distancing hug.  You are entering into the most amazing, awesome, incredible, sometimes unpredictable, and a little unnerving at times, journey.  You have studied so diligently  and are now ready, willing, and set to take, for our Dear, Loving, Incredible God, this special journey He has prepared for you.
  I have walked the very path you are about to embark on.  I planned to be a teacher since fourth grade.  I had many individuals tell me I shouldn't even try the journey for multiple reasons, but I wanted to teach God's little ones so much.  I wanted to teach the hearing impaired children and those that struggled with learning.  I wanted them to know of their great loving Lord and Savior. I was told there was such an unbelievable need for teachers.  I, with the support of my parents & grandparents, and a handful of family friends, and a few teachers, placed my trust in God and took His journey.
  I didn't know how I was going to pay for Four Years of studying; jobs for college students were difficult to find, fuel prices were at an all time high, the economy wasn't producing enough work for it's full time employees, yet God whispered, "Trust Me" and I will show you the way... and it was done!
  I didn't know how I would ever pass some of the classes I needed to gain my teaching degree, but God said, "Trust me and I will open doors of help! It did come, from more individuals than I ever would have believed. It came from DMLC Professors, New Ulm Congregational Members, and Classmates.  With their help, I learned multiple ways of tackling difficult subjects and succeeding.
  I was s-o-o excited.  1983 graduating class was one of the largest classes to graduate DMLC.  In a few days, I was going to be a part of that special class. Elation, I was going to be a teacher.
  Then... news spread like wildfire; there weren't enough "
Calls
".  Not everyone would receive a teaching position.  As the final days passed, things grew more intense. 
Call
requests were much smaller than first thought.  Females engaged would be placed at the bottom of the list unless "The
Call
" specifically requested a married couple.  Only a day or two prior to "
Call
Night", a special announcement was made,  for the first time in the history of "
Call
Night", the list for "
No
Call
Received" was so great, it was eliminated.  Those Receiving a "
Call
" would hear their names read.  Once done they would meet privately to get the information.  The Faculty and
Call
Board new how difficult it would be for the rest of us to hear. The list was short, the wait time until a "
Call
" was available, "Unknown!  My name was not on the list.
  Graduation Day was very difficult.  In 3 short months my school loans were going to be needing to be paid. 
No
real job available.
Amidst my deep sadness and unending questions of what will I do, what should I do, did I make the right decision to teach?  God loudly proclaimed, "Have
no
fear, I am with you and wait til you see the plan I have laid out for you!  I needed to wait for news of a teaching position via mail.  I waited, and waited, and waited. (Not very patiently I might add, and yes, very frustrated at times)  I waited almost 14 months before receiving news; finally there was a need for primary grade teachers.
  Placing my trust in God's Ultimate Plan wasn't easy.  I took work as I could find it.   Employers were hesitant to hire someone who may be teaching any moment.
  I soon discovered God had a few more things for me to learn.
1) Trust, not just trust like trusting a friend with a special secret, but "The Ultimate Trust"!
2)  Adults and Children both needed to hear of their Savior
3)  Patience.  Not the waiting in line for your turn patience, but "Real Patience". The deepest strongest loving, honest patience that produces empathy of the deepest kind, the desire to make sure you find every Christian possible alternative to help one understand and succeed patience.
4)  Complete satisfaction of having really nothing and still being able to move forward and complete the tasks before you.
5)  The Lord said He wanted me to introduce sign language at NWPC in Watertown, WI and at Seminary in Mequon
6) The Lord said He wanted me to teach children, and also adults with learning disabilities in Milwaukee about Him
And it was so... July 1984, The Lord said You are now ready to do all the work I have laid out before you.  I was blessed with a teaching
call
to Milwaukee, WI, a Mission Congregation that shared a School with another area congregation.
  Graduating Class of 2020, your graduation day will soon be here.  The Lord will take each and everyone, in His Time, and In His chosen moment, and He, personally, will set you into a very special city or country that He has specially selected just for you and your unique talents.  Yes, your class will probably be the first to graduate differently than any class before you.  Embrace this unusual event.  Make it uniquely special & uniquely yours. You are entering into a very special career field; not everyone has the ability to walk this path.  It is very unique and so very special because it's just for you; totally and ompletely dependent on God in every aspect of it.  Your years of Teaching and Preaching will be so very Special.  "To God Be the Glory"
Blessing dear Graduates, Blessings,
To The Graduating Class of 2020
Congratulations to the Class of 2020!
As you adventure out into this world, preaching the good news about God, may God be with you every step of the way. God bless you! and good luck on your new adventure.
~Julie Swenson
To The Graduating Class of 2020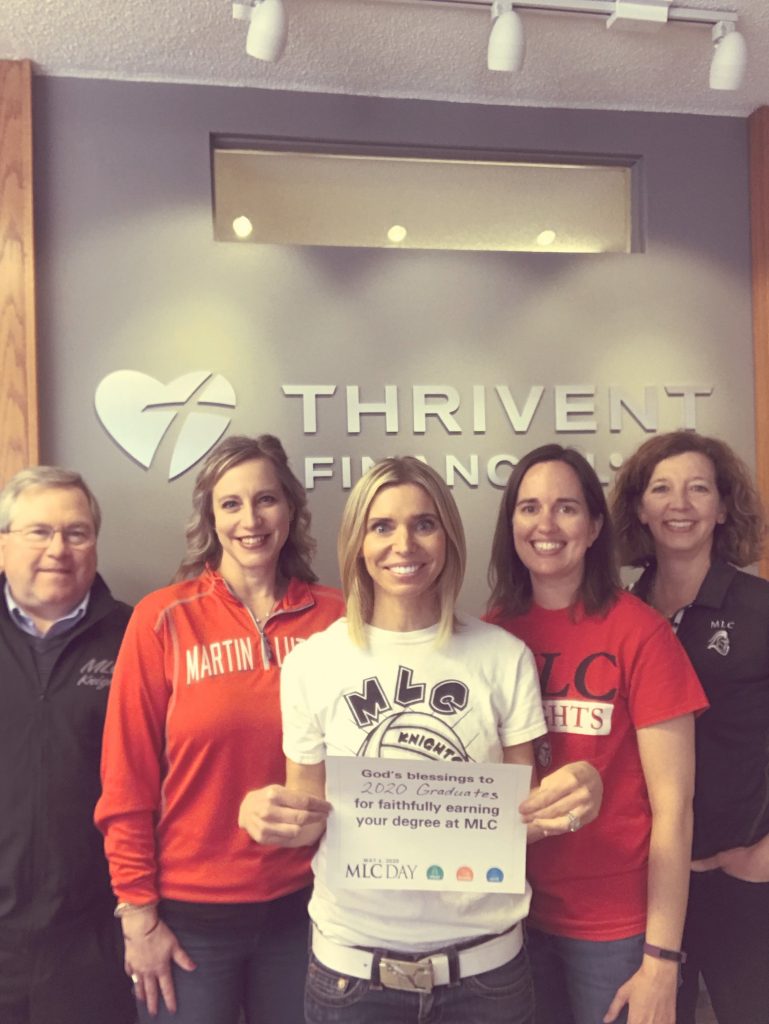 ~Thrivent Financial, New Ulm
To The Graduating Class of 2020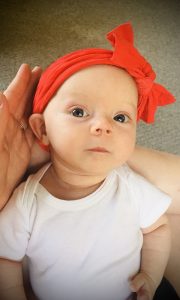 Congratulations!
~New baby Schaefer
A Prayer
Dear Father in heaven, thank you for all of the seniors graduating from MLC this year. Thank you for feeding them with your word, and for the faculty and staff who nurtured them, and provided excellent examples of Christian service and leadership. Grant them wisdom and strength as they serve you in a world that desperately needs to hear what you have graciously taught them. In Jesus' name, amen.
~ Pastor Dan Wagenknecht
Blessings ...
Blessings to all of you as you enter your mission field serving our Lord!
~ Linda, class of 1980
God will guide all of you
46 years ago God blessed me by giving a classroom of second graders to teach. May God bless all of the graduates as he blessed me. We have been blessed with hosting students. This year was no different. May all of the graduates feel God's presents with them as they go their ways to their congregations or continue on to the seminary. God will guide all of you in His ways.
~ Charmaine Gerndt
A prayer
Dear Great and Glorious God,
We thank you for the ministry we have in your name and the solid Christian education you give your servants through MLC.  As we are unsure of what the future may bring, we are certain that the truths you share with us in your word will never change.  As these graduates look forward to sharing the unchanging truths of scripture, in ministry, be with them and those who they will be serving. Please encourage more servant hearts to be guided to study for full-time ministry. Help us glorify you in all things.  In your will and Jesus name. Amen
~ Drew Retzlaff - DMLC '94
Dear Father in heaven
Dear Father in heaven,
You are the giver of every good and perfect gift. You have proven your love for us in giving us the ultimate gift in your Son. In him we have life to the fullest and in him we have life for eternity. You also give gifts to your church in the form of pastors and teachers. We thank you for this class of students who are preparing to present themselves as candidates for ministry. We pray for the teacher candidates. Give them to your church as full time servants according to your will. Use their gifts in the proclamation of your gospel throughout the world. We pray also for the pastor candidates. Bless and keep them as they continue in their preparation for the pastoral ministry. We also thank you for the committed faculty and staff at Martin Luther College. You have used them well with this class. Continue to bless their efforts as they train the future called workers of the WELS. In particular, we thank you for the ministry of President Mark Zarling. We give thanks for his leadership and faithful service in his years at MLC. Bless him in his retirement years. We pray these things in the name of our Savior, Jesus, the Lord of the Church. Amen.
~ Charles Westra
Congratulations!
Congratulations, and the Lord's blessings now and in the future!  Times spent in your presence at MLC have been so pleasant.  We have been welcomed when we have visited.  and seen many happy faces!   
~ Floyd and Corinne Green
Strength and Comfort to the class of 2020
May the Lord bless all your studies and experiences at MLC as He prepares you to serve in His kingdom!  You are beginning your ministry at an unprecedented time in history.  I hope you will find strength and comfort in knowing that God's love and power is unfailing!  Be the blessing to your students and their families that God wants you to be, and they need you to be!
In Christ's Love,
~Karen Tenyer (nee: Whittier) Class of 1984
A Prayer for All Graduates
I pray that each one knows that God will get them and all of us through this time.  And I wish them all (I don't have anyone there or know any of them personally) God's continued blessings.  
~ Sharon Louise Waterstradt 
Congratulations!
I WOULD LIKE TO CONGRATULATE ALL THE SENIORS FOR FINISHING THEIR YEARS OF EDUCATION IN ORDER TO BECOME A SHEPHERD OF THE SHEEP AND LAMBS OF JESUS!
I AM SO HAPPY TO HAVE MORE CHRISTIAN TEACHERS AVAILABLE TO HELP PARENTS BRING UP THE[R CHILDREN IN THE FEAR AND TRUST IN JESUS OUR SAVIOR!
MAY GOD BLESS YOU IN YOUR CALLING, WHEREVER HE WILL SEND YOU!
~LOIS MUELLER
1960 GRADUATE OF DMLC
Happy MLC Day!
Happy MLC Day to all!
~Pastor Jeff Bovee
St John's Lutheran Church
New Ulm, MN
Dear Seniors of 2020
Dear seniors of 2020,
So many of us before you have faced the excitement and uncertainty of Call Day, but maybe none of us quite like you have. We are so proud of you. We are so excited to welcome you into ministry. We pray that God gives you encouragement through his Word, through your classmates, and through those that have gone before you. You can trust that this is all his amazing plan for you!
~ Rachel Wordell
To the Senior Class
Now that God has so graciously bestowed upon you the abundance of arts, teachers and studies over the years, I pray that he would bless you as you gather together these treasures and use them for the benefit of his Kingdom.
In the name of our Lord Jesus Christ, in whom are hidden all the treasures of wisdom and knowledge, Amen.
~David Young
Congratulations on your graduation!
Congratulations on your graduation from MLC! You made it! May God continue to bless you, wherever He takes you, and as you share His Word with children, young people, or adults. God's richest blessings.
~ Sue McDougall
Congratulations all Seniors!
Congratulations to all Seniors!
I want to send blessings to all and know that GOD is with you all the way.
Friends with Christ,
~Ila Possail, Tyler MN 
Future MLC Alumni!
As a member of the MLC Alumni Association, I'd like to welcome you upon graduation as Alumni of MLC!  We pray that next year and in the years to come MLC Day will be important to you then as it is today. God's richest blessings to you all as you embark on this next chapter of your life.
I Thessalonians 15:58 "Therefore, my dear brothers and sisters, stand firm. Let nothing move you. Always give yourselves to the work of the Lord, because you know your labor in the Lord is not in vain." (MLC Class of '99 Graduation passage)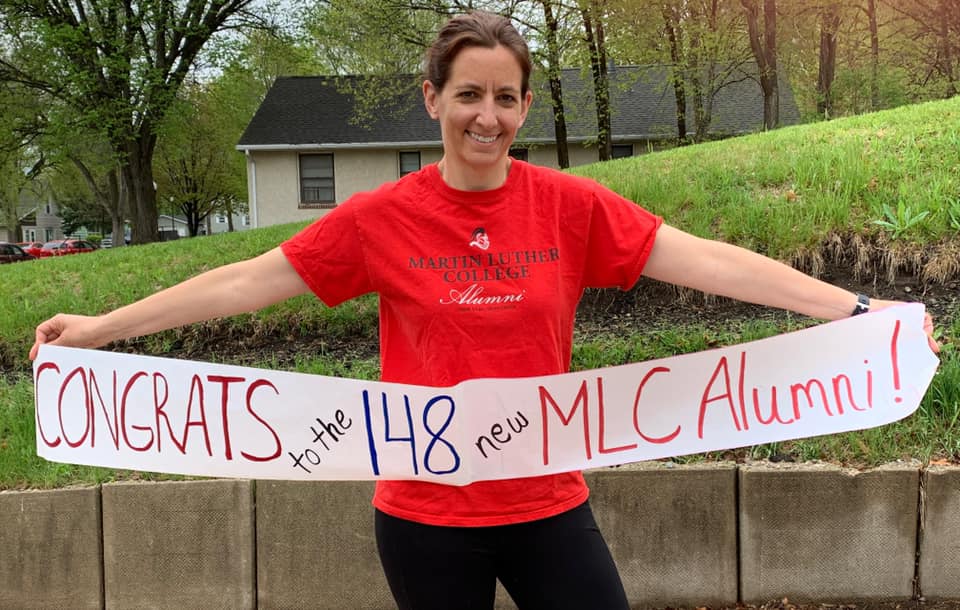 ~Sarah Zahrt, MLC Alumni Association
Happy MLC Day!
Happy MLC Day from Fond du Lac, WI!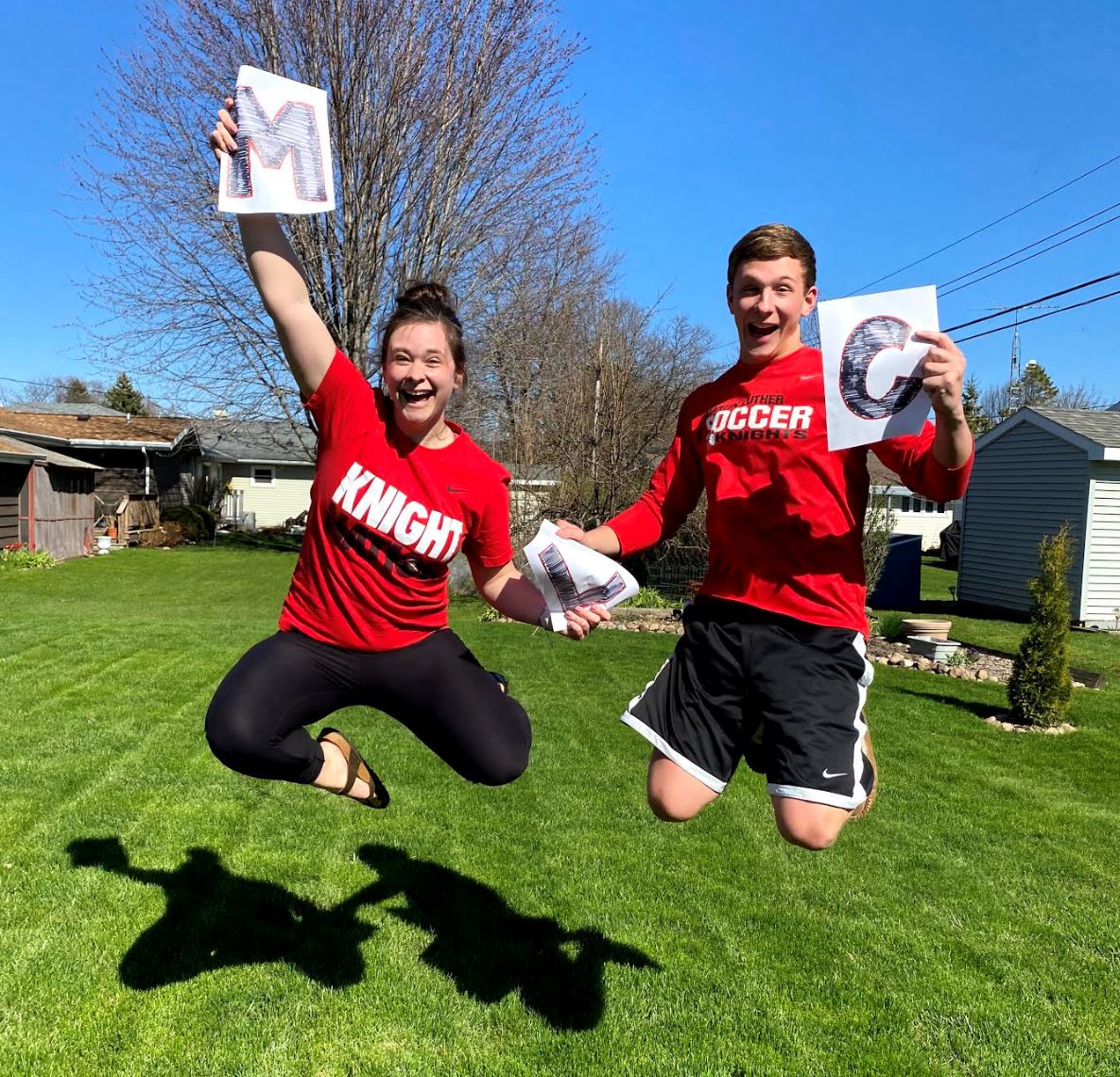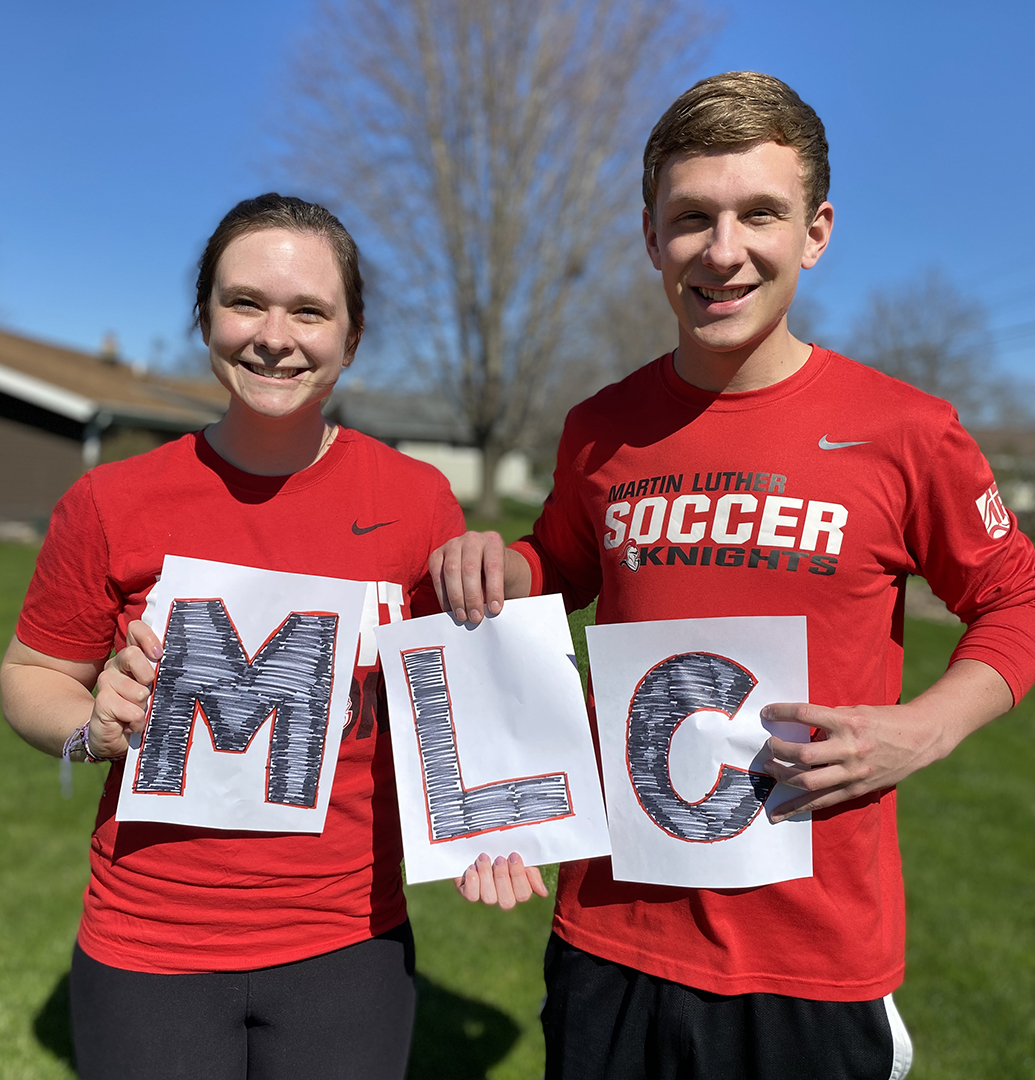 ~Lydia and Josh Thiesfeldt
#MLCDAY20
Happy #MLCDAY20! We are praying for and so thankful for all of the MLC 2020 graduates! God's Blessings!!
~Ross, Charissa, and Graham Chartrand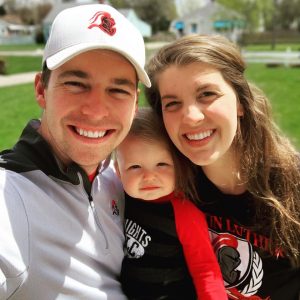 You can do all things through Him
Congratulations Graduates !!
It was a lot of hard work you had to do to get to this point - but proof that in your future, you can do all things through Him who gives you strength!! Keep letting your light shine for Christ. God's greatest blessings to each one of you 🙂
~Shelly Andersen, WELS member