Winter Fredrick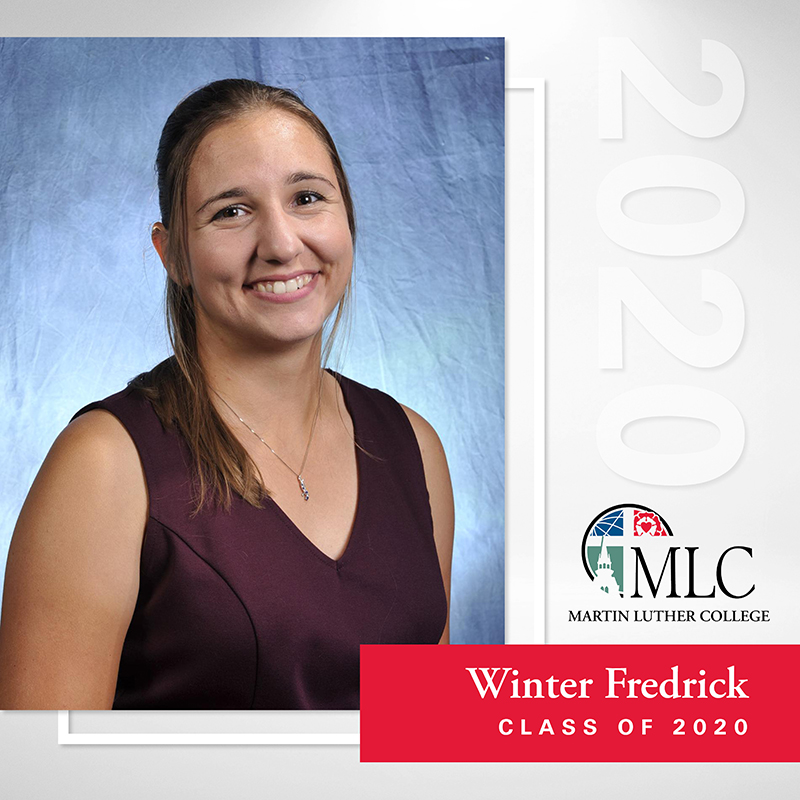 Favorite Bible Passage
Be still, and know that I am God ~ Psalm 46:10
Activities during time at MLC
College choir wind symphony both only 1 year
Special memory from years at MLC
My roommate Hannah Black and Abbie Elowski (now Lince) along with some other friends made a huge chalk mural one weekend. It took about 14 hours and was outside the chapel. It was great to see how months of sketching and planning could come together and make something beautiful. We used alot of our favorite bible passages and stories in the mural. Hannah and I have done other murals like the chalk drawing from Tangled, but the chapel mural was my favorite. I was planning on doing another mural this spring, but Ill just have to see if we get another opportunity.
Favorite class
Light and Optics with Prof. Tacke. All of the physics classes are designed to allow anyone to learn physics in an extremely hands on way. All of my physics classes shaped how I envision my future classrooms in any subject.
Words of wisdom for incoming students
Don't be afraid to change your mind. The point of college is to grow. Sometimes that growth leads to different paths than you planned at first. Try as many paths as possible to find which one is the best fit.
---
Personal Messages
Graduate, please click here and enter your personal password here to view private messages of encouragement, congratulations, and appreciation submitted for just for you!