Sarah Goldschmidt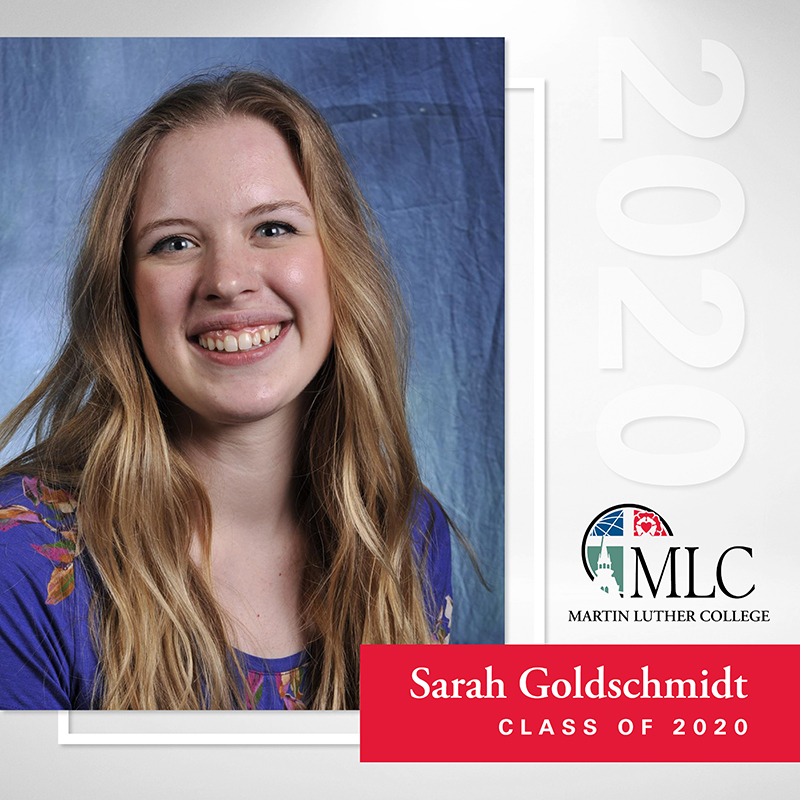 Favorite Bible Passage
Consider it pure joy, my brothers and sisters, whenever you face trials of many kinds, because you know that the testing of your faith produces perseverance. Let perseverance finish its work so that you may be mature and complete, not lacking anything. ~ James 1:2-4
Activities during time at MLC
Event Team! My catch-all activity. My job was one of the best parts of my time at MLC- so many fun memories and activities we were a part of! And team bonding activites- #rollerchairsoccer4evr . I will always treasure that part of my MLC career.
Special memory from years at MLC
Too many to count!! I'm going to miss the proximity to all my favorite people. All the Friday nights singing karaoke with my friends! Or Spamball and the Swine Sizzler junior year! Those are some of my favorite memories, for sure. 🙂
Favorite class
Doctrine 1 with Professor Scharf! We had so many awesome, faith-filled discussions in that class and I really enjoyed every minute of it.
Words of wisdom for incoming students
Treasure every moment of being able to live down the hall from your best friends- it's one of the only times in our life we will probably be able to experience that and it is SUCH a gift.
---
Personal Messages
Graduate, please click here and enter your personal password here to view private messages of encouragement, congratulations, and appreciation submitted for just for you!