Robert Read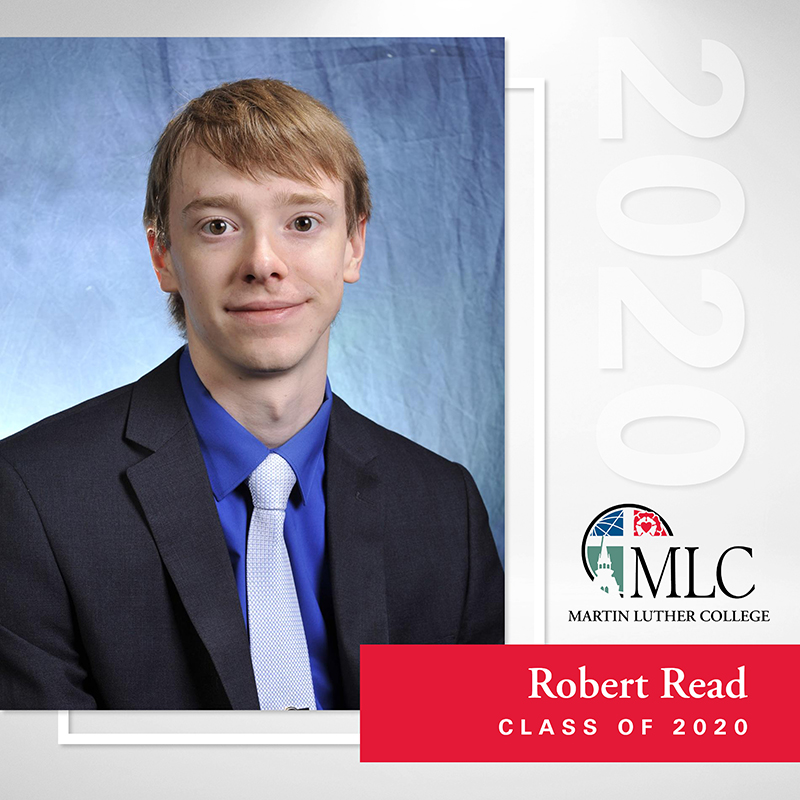 Favorite Bible Passage
I took you from the ends of the earth, from its farthest corners I called you. I said, 'You are my servant'; I have chosen you and have not rejected you. So do not fear, for I am with you; do not be dismayed, for I am your God. I will strengthen you and help you; I will uphold you with my righteous right hand. ~ Isaiah 41:9-10
Activities during time at MLC
Studium Excitare, intramural basketball
Special memory from years at MLC
All the times friends have invited me to crash at their place over breaks so I wouldn't have to buy a flight to Texas
Favorite class
Acts. There are so many great things about this class that it's hard to narrow down. You really get to see how well the New Testament, and the entire Bible, fits together. This aspect of the class is extremely comforting in a world that tries to tear down God's Word. You also see that intense Bible study pays off; it's a great antidote for anyone who thinks they already know all there is to know about the Bible. Finally, you learn how to do solid Biblical exegesis, which you're going to be doing all the time as a pastor.
Words of wisdom for incoming students
Pastor track students: Hit the books in Greek and stay faithful to your calling as a student. Whatever effort you contribute to frosh Greek, you'll reap many times over when you get to Acts and Corinthians senior year, and at sem as well.
---
Personal Messages
Graduate, please click here and enter your personal password here to view private messages of encouragement, congratulations, and appreciation submitted for just for you!