Noelle Boucher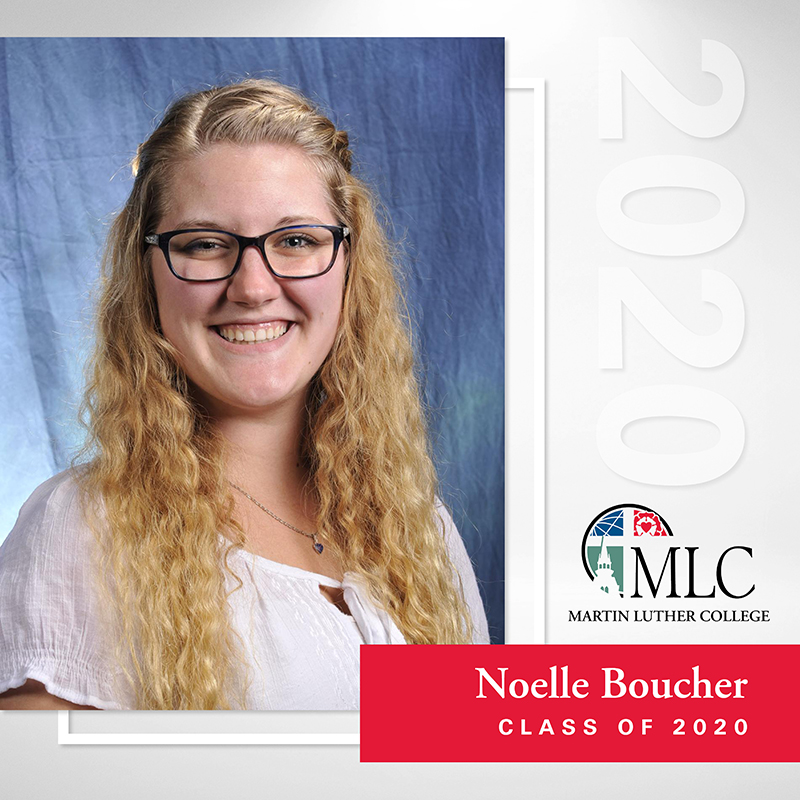 Favorite Bible Passage
Let your gentleness be evident to all. The LORD is near. Do not be anxious about anything, but in every situation, by prayer and petition, with thanksgiving, present your requests to God. ~ Philippians 4:5-6
Activities during time at MLC
Volleyball (1 season), Forum – most of the Musicals, One acts, Winter plays, and Children's theater during my time at MLC.
Special memory from years at MLC
Being involved with Forum and all the productions I was able to make amazing memories and deepen relationships. Throughout all the late nights, countless inside jokes, amazing performances, hard times, and weird warm up activities I grew so close to my two best friends and deepened relationships with many others.

I also never knew how much running it would take to be in the ""Cat in the Hat."" Every practice, that is 5 times a week for 2 hours, Thing 2, Lucy Bartz, and I ran (and I mean ran) around every inch of the auditorium. But at the end of all 11  performances you could not tell… I was disappointed. It was still worth it for all of the amazing memories. 
Favorite class
IPC (Inter Personal Communications): This class teaches you about how people communicate and the best way to reach others. It also allows for practical application of the concepts. I loved this class because while we were on campus it didn't feel like a class, we were able to practice real life skills. I learned what parts of my communication were good and bad. Extremely beneficial and fun.
Words of wisdom for incoming students
Get involved with clubs and other activities. There are many opportunities for involvement at MLC, and it is the best way to make memories and life long friends.

You're in the good ol' days, take advantage while you can. 
---
Personal Messages
Graduate, please click here and enter your personal password here to view private messages of encouragement, congratulations, and appreciation submitted for just for you!