Moriah Hackbarth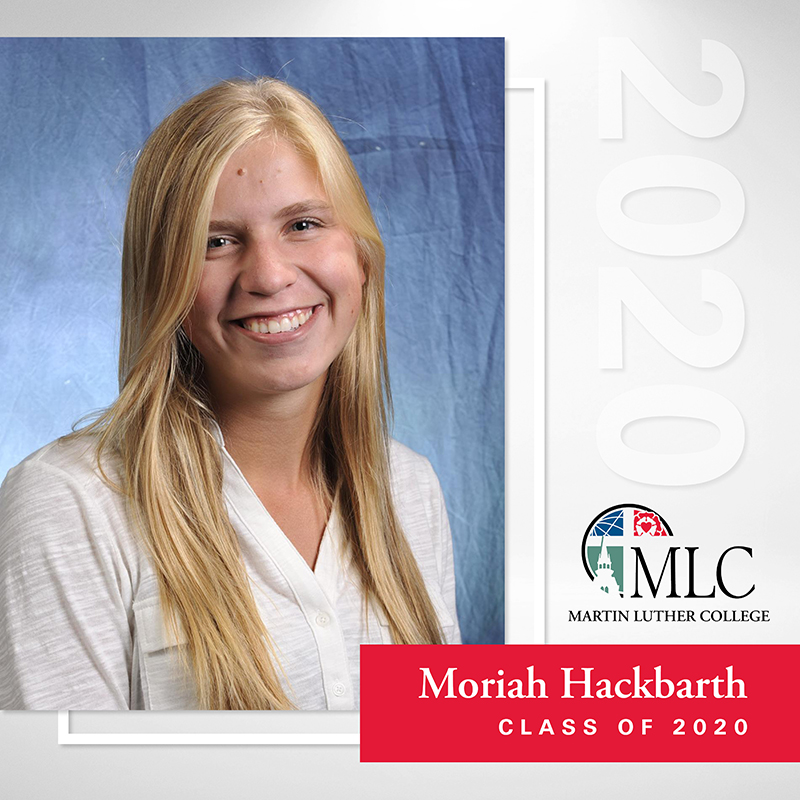 Favorite Bible Passage
Let us not become weary in doing good to others for at the proper time we will reap a harvest if we do not give up. ~ Galatians 6:9
Activities during time at MLC
Volleyball, basketball, Chorale, College Choir, Winter Play, Meet Math, volleyball and basketball intramurals, Ultimate Frisbee, Talent shows, RA, Student Ambassador, SAAC, Tutor/Proctor, Various MLC contests
Special memory from years at MLC
The day that I died dozens of times in one day practicing for The Mousetrap will always hold a special place in my heart. In fact, that experience and the cast was one of my absolute favorite memories from MLC!
Favorite class
Just one of my favorite classes was Discrete Math with Prof. Fredrich sitting next to Emily Muir. Getting my name written on the board never looked so beautiful.
Words of wisdom for incoming students
I pray that the LORD bless you and keep you. I pray that His face shines on you and is gracious to you. I pray that he looks on you with favor, and gives you peace. I pray that he takes your time at MLC and draws you closer into his arms. I pray that he uses those around you as you walk through MLC, your friends, your teachers, and encourages you in this temporary home. I pray that he allows hardships in your life that remind you what is most important and who is most important. I pray that he provides the unending joys that come with being his redeemed child and being with his redeemed people. I pray that he molds you as a member of his family in a way that best glorifies him. I pray that you grow to love those you meet at MLC as I did. May God keep all the promises he made you since the beginning of time until we may join in praising him together forever. His will be done. Amen Amen.
---
Personal Messages
Graduate, please click here and enter your personal password here to view private messages of encouragement, congratulations, and appreciation submitted for just for you!