Maria Tomassetti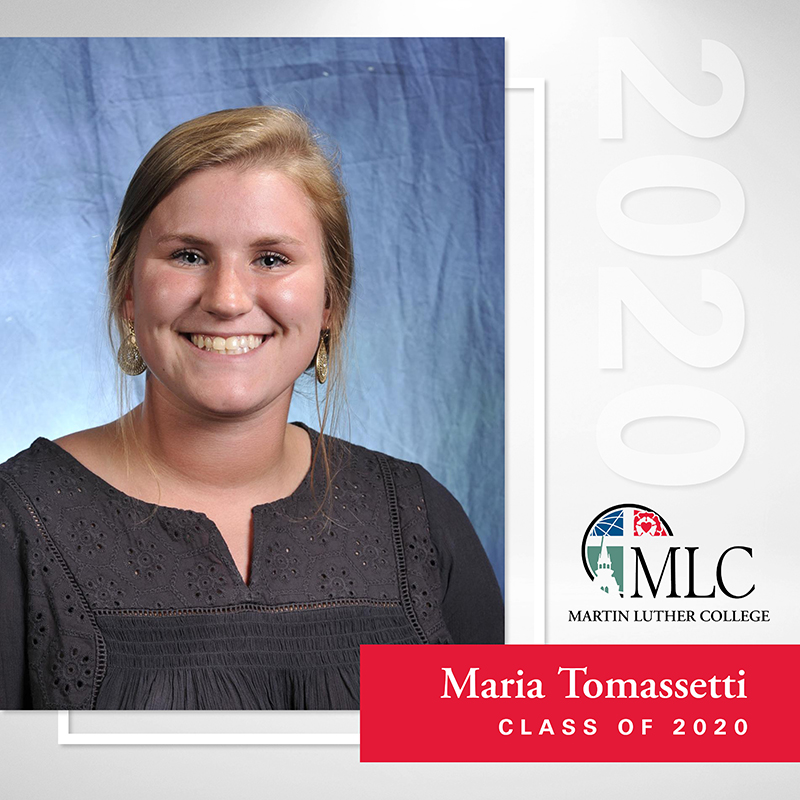 Favorite Bible Passage
But we have this treasure in jars of clay to show that this all-surpassing power is from God and not from us. We are hard pressed on every side, but not crushed; perplexed, but not in despair; persecuted, but not abandoned; struck down, but not destroyed. We always carry around in our body the death of Jesus, so that the life of Jesus may also be revealed in our body. For we who are alive are always being given over to death for Jesus' sake, so that his life may also be revealed in our mortal body. So then, death is at work in us, but life is at work in you. ~ 2 Corinthians 4: 7-12
Activities during time at MLC
Intramural, Choir, Womens Soccer
Special memory from years at MLC
Building my relationships with my girls during the four years at MLC. This could have been from our spontaneous trips to the cities or Mankato to even coffee dates at Lola's or even just hanging around in the dorms or downtown New Ulm. Overall, I loved being able to part of a group that helped encourage and support me through the comfort of our Savior.
Favorite class
Clinical Classes with Roux- Professor Roux was really motivating and inspiring as he prepared us to go out into our clinical experiences. He provided us with many great resources that we are able to use when we get out into our new ministry field. Though we had to sit in the same classroom all day, Roux made the experience well worth it and I can truly say I learned a lot from him.
Words of wisdom for incoming students
"Don't be afraid. It's scary moving to a new town that you are unfamiliar with. Meeting new friends can be hard but here at MLC, I can confidently say that you are going to meet some of the greatest people here. Your friends are going to be your number one supporters, helping you every step of the way through your academics and life scenarios. Don't skip out on Chapel, it's the main reason you are here. Ultimately, don't take advantage of what you have. As a senior from the class of 2020, it feels like everything got ripped away from us too soon, especially when you were gone for a semester student teaching. Make memories with your friends, stay up late, and do fun things around New Ulm or Mankato. You never know what you had until it's gone.
Lastly, entering the ministry can be a scary, it was for me, but through my years at MLC, I know that I am here to serve God and teach young child about Him. Your Professors will be there to support you. If you need help, go and ask. God will also be there for you. Pray to Him. Make time for Him. Remember, He chose YOU. 1 Peter 2:9 says, ""But you are a chosen people, a royal priesthood, a holy nation, God's special possession, that you may declare the praises of him who called you out of darkness into his wonderful light."" Be confident and enjoy your time at MLC, you won't regret it. "
---
Personal Messages
Graduate, please click here and enter your personal password here to view private messages of encouragement, congratulations, and appreciation submitted for just for you!