Lydia Thiesfeldt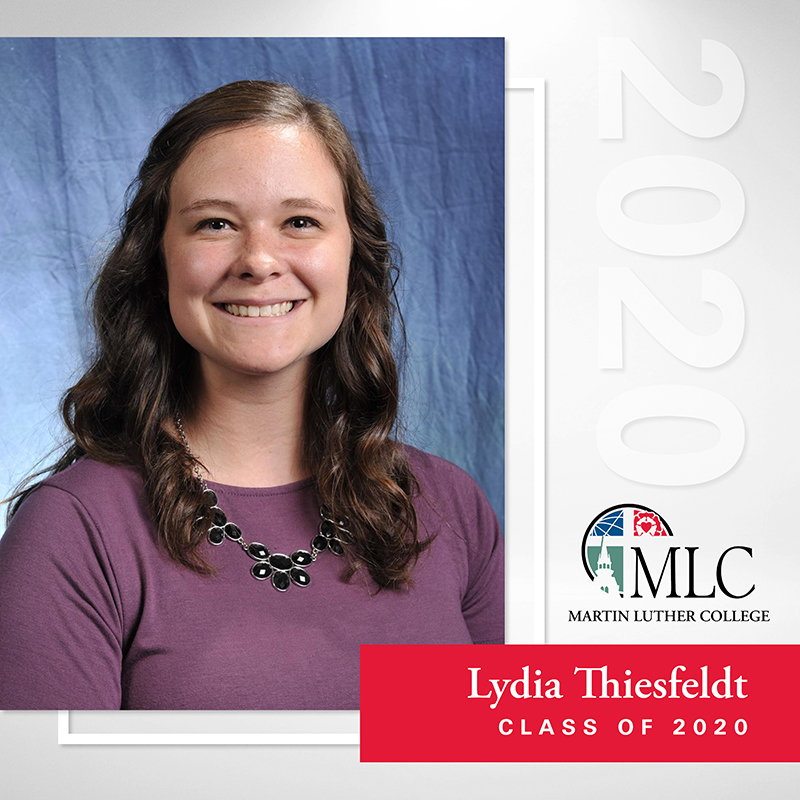 Favorite Bible Passage
For I know the plans I have for you," declares the Lord, "plans to prosper you and not to harm you, plans to give you hope and a future. ~ Jeremiah 29:11
Activities during time at MLC
Intramural volleyball (indoor and sand), Chorale
Special memory from years at MLC
Arbor Day of my Junior year, two of my friends and I were assigned to a professor's home to help them clean up their yard. Even though we were working the whole morning, it was fun to be doing it with my friends. We got to spend the rest of the day outside in the sunshine, playing yard games, watching softball games down the hill, and relaxing!
Favorite class
Arts and Movement in Early Childhood Education. I loved all of my ECE classes throughout my years at MLC, but this one has always stuck out to me because it was one the first courses that I took that involved writing lesson plans and teaching our peers. I enjoyed it because it involved art, music, and physical education, which were all fun lessons to plan, prepare, and teach! I learned a lot throughout the course and it made me excited to teach!
Words of wisdom for incoming students
Enjoy every moment of your time at MLC – it goes by much too quickly, and you will miss being surrounded by all of your friends, classmates, and professors every day!
---
Personal Messages
Graduate, please click here and enter your personal password here to view private messages of encouragement, congratulations, and appreciation submitted for just for you!