Katelyn Raddatz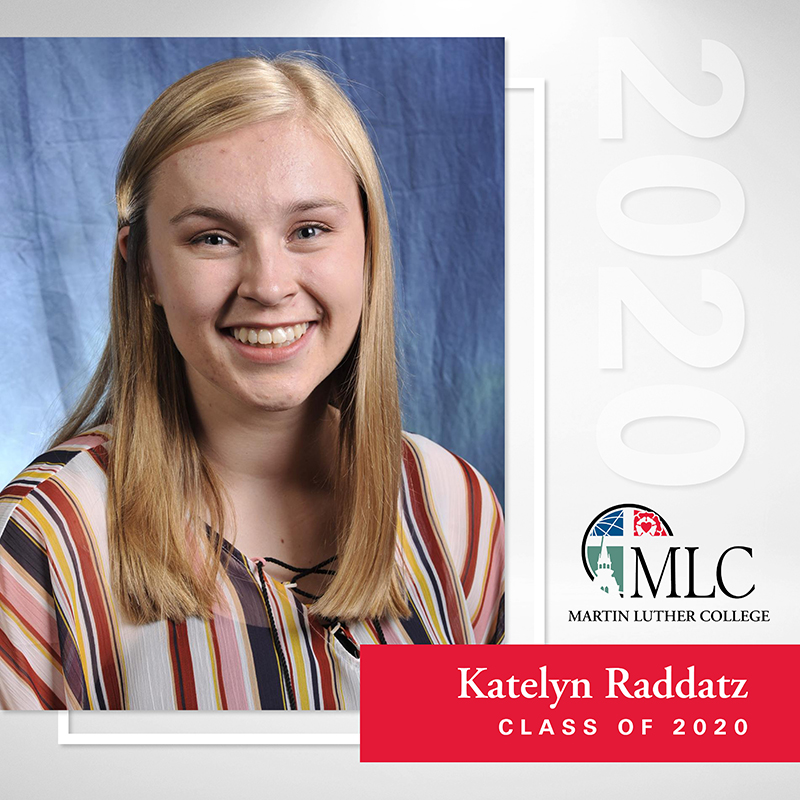 Favorite Bible Passage
"Do not let your hearts be troubled. You believe in God; believe also in me. My Father's house has many rooms; if that were not so, would I have told you that I am going there to prepare a place for you? And if I go and prepare a place for you, I will come back and take you to be with me that you also may be where I am. You know the way to the place where I am going." Thomas said to him, "LORD, we don't know where you are going, so how can we know the way?" Jesus answered, "I am the way and the truth and the life. No one comes to the Father except through me. ~ John 14:1-6
Activities during time at MLC
College choir, track and field, musicals(Camelot and crazy for you)
Special memory from years at MLC
It's really hard to pick just one! I would have to say that out of all of the memories that stick out in my mind, most come from my experiences touring with the college choir. Over the three years that I was involved in this choir I got to travel to 23 different states. I saw a show on Broadway and climbed up the Statue of Liberty my sophomore year. This year we went snorkeling in the Atlantic ocean, saw some dolphins, and saw alligators in the Everglades. The best part of touring by far was getting to sing God's praises each night. Each congregation that we went to was so welcoming. It was so neat to travel thousands of miles away from home and still feel at home surrounded by fellow brother's and sisters in Christ. These trips will forever have a special place in my heart and I am really going to miss it.
Favorite class
Government class with Dr Muente. Every Thursday, we would spend a great amount of time discussing current events. We were all given the task of finding three articles that peaked our interest and on discussion day we could pick any one to talk about with our peers. I always enjoyed the discussions that we had and looked forward to them each week.
Words of wisdom for incoming students
"Get involved in the many different activities and clubs on campus. It's through these extracurriculars that you really get to know people. The friends that I made by being involved in different activities became like family to me. MLC is a great place to try new things. Even if you have never been a part of a choir, performed on stage, or played a particular sport, try it.
Also, go to Compline on Monday nights at 10 pm. It's a great way to start the week. "
---
Personal Messages
Graduate, please click here and enter your personal password here to view private messages of encouragement, congratulations, and appreciation submitted for just for you!