Jade St Germaine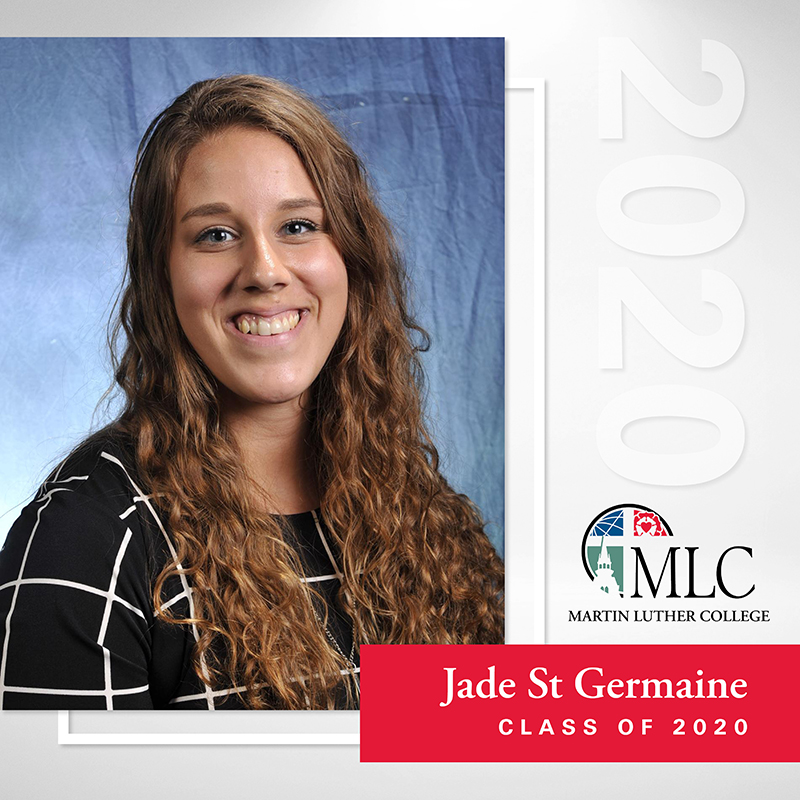 Favorite Bible Passage
I have told you these things so that in me you may have peace. In this world you will have trouble. But take heart! I have overcome the world. John 16:33
Activities during time at MLC
Volleyball, Basketball, Track, SCCLC
Special memory from years at MLC
As a 24 year-old graduate and a 6th year senior, I have spent 1/4 of my entire life as an MLC student. I have countless special memories from MLC! It is impossible to choose 1. I have so much love for MLC, my professors, my coaches, and the people I attended with. MLC will always hold a special place in my heart.
Favorite class
Foundations of History for sure! The class so amazing it needs to professors 🙂 That class was the most demanding class I ever took at MLC. But it was also the most rewarding. The final exam was presenting our historiography analysis papers at Professor Koelpin's house with dinner! How many classes have THAT as a final exam?!
Words of wisdom for incoming students
For education students- Enjoy learning about the science of teaching. Coming out of high school, you have seen and observed the artistic side of teaching: what types of lessons you enjoyed, how your teacher built relationships, etc. As someone making the transition from student to teacher, you will learn what it truly means to be a teacher, and that meaning may be different than what you thought. There's a lot to being a teacher. But that's the SCIENCE. Enjoy it 🙂
---
Personal Messages
Graduate, please click here and enter your personal password here to view private messages of encouragement, congratulations, and appreciation submitted for just for you!