Isaiah Duff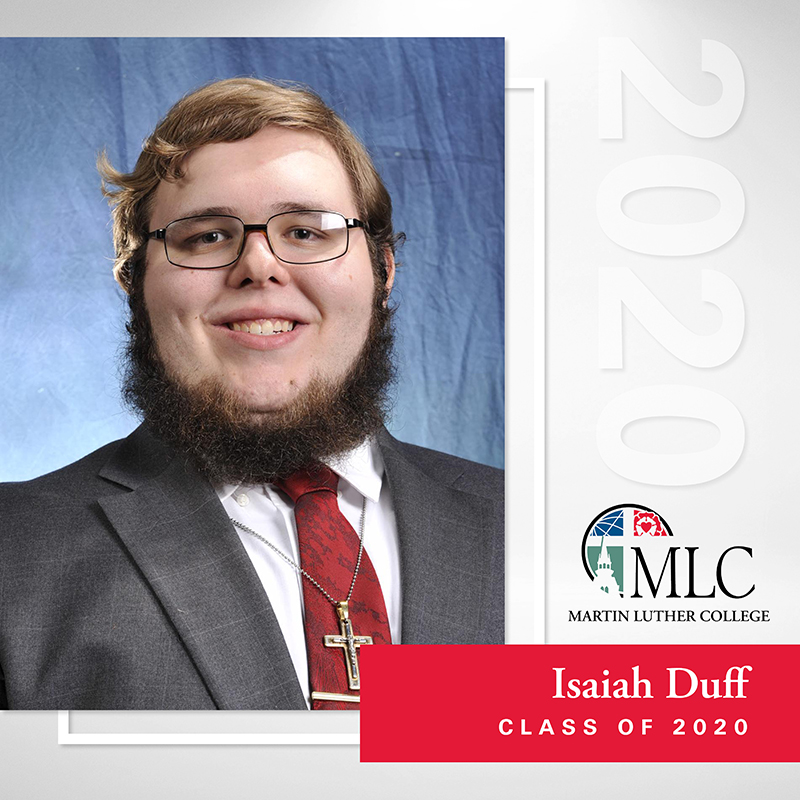 Favorite Bible Passage
However, to the one who does not work but trusts God who justifies the ungodly, their faith is credited as righteousness. ~ Romans 4:5
Activities during time at MLC
Winter Plays (The Crucible and A Midsummer Night's Dream), Studium Excitare
Special memory from years at MLC
There are so many it's hard just to choose one. I remember during the time that practices were ongoing for The Crucible, I would often go to the room of a friend, Malachi Mortensen. I fondly remember making those walks back to Concord in the cold at night, climbing up the stairs to the third floor, and finding the right room. There I'd sit with him, Caleb Paul, and occasionally Caleb Strutz would join us. We'd sit around with a mug of tea and just chat about life. I often had the opportunity to impart some form of wisdom or just something neat that I'd learned with respect to theology, and those conversations have a special place in my heart. I remember being humbled when I had the opportunity to share something that was edifying for them.  I remember talking about nearly anything and everything and always bringing it back to Christ. It was hilarious. It was encouraging. It was edifying. That's really what the best of MLC is – a sense of a little Christian family with those dear friends you make. I'm going to miss those conversations.
Favorite class
I have the distinguished honor of being the only student to have taken a one-on-one elective with Professor Danell, so that would have to be my favorite class. The class was European German Lutheran Writings and for that year and rotation it was focused on the period of Pietism. It was a wonderful opportunity to read the literature of that era, both how our beloved Lutheran church went 'off the rails' (so to speak) and yet also how much needed corrective was found, albeit too late. It was also an invaluable time to discuss the ideas present within those writings with Professor Danell. It was the most edifying class I have taken at MLC.
Words of wisdom for incoming students
My word of advice for incoming students? You're about to be in a place that has the potential to be an incalculable benefit to you. Even if you're not the smartest. Even if the Biblical languages are going to be the toughest thing for you. Even if you don't find your spouse here. Even if you decide that ministry isn't for you. You are going to be at a place where Christ Crucified bleeds into everything you do, everyone you meet, and everywhere you go. You are at a place where you can learn what is it about the Lutheran Church that is so precious, why the Gospel in all its power and beauty is so treasured. You have access to some of the brightest and most earnestly dedicated minds in Christendom. Learn from them. Listen to Christ as he speaks to you in His word, and listen to your professors. They have more wisdom than you know. Don't be afraid to ask them questions! Don't be afraid to talk to them outside of class! They really *do* care about you and your faith. They are your greatest asset, and I beg you to make the best use of them possible.
---
Personal Messages
Graduate, please click here and enter your personal password here to view private messages of encouragement, congratulations, and appreciation submitted for just for you!