Hannah Ruehrdanz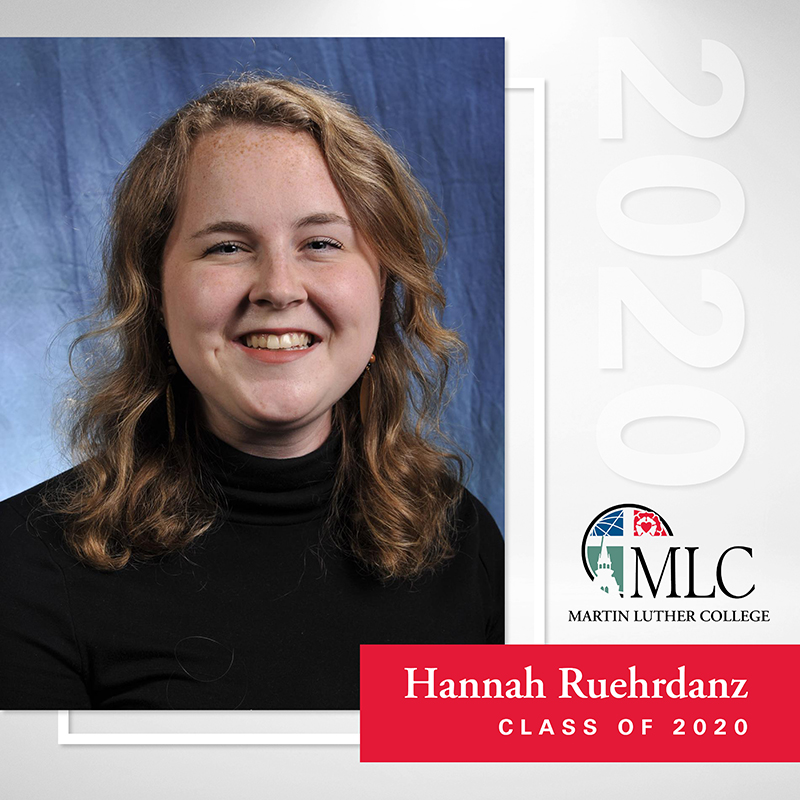 Favorite Bible Passage
But God demonstrates his own love for us in this: While we were still sinners, Christ died for us. ~ Romans 5:8
But he was pierced for our transgressions, he was crushed for our iniquities; the punishment that brought us peace was on him, and by his wounds we are healed. ~ Isaiah 53:5
Activities during time at MLC
Soccer (1-2) RA (3)
Special memory from years at MLC
-Small group Bible Studies and morning/evening praise
-Performing in the 2019-2020 talent shows with Moriah 🙂
-Kwik trip adventures Before Breakfast
-Jumping in the puddles with Abbie any and every time that it rained
-The eco-vigilante project and neature walks with the roomie (Hi, Kas:)
-Trips to St. Peter for church and River Rock coffee
-Karaoke: ""Lay all your love on me.""
-So many more, but I don't know how much space I'm allowed to fill here…
Favorite class
-Teaching World Languages, porque profe es mi inspiración!… and Literatura. 🙂
-RiCA with Prof. Grubbs because the class was an amazing example of what a teacher should be as well as a solid resource for teaching in the future. The class was ""one spicy meatball.""
-I.P.C. with Dr. Paustian because it has impacted my communication in an extremely beneficial way as a servant of Christ. Wow.
-Elementary Spanish II because I love my students (hola chicos)
-so many other classes. thank you to the teachers at MLC who go above and beyond.
Words of wisdom for incoming students
1. Say yes to new experiences and things that maybe make you nervous (e.g. trying out for talent show or a sport you've never played or going to another country for a year…)
2. Go to all the Bible Studies you can. Go to chapel. You will not regret it.
3. A lot of your professors are really cool, just appreciate them. Learning is pretty neat, guys.
4. Go outside while it's warm out, or you'll regret it when it's not. 🙂
5. Pray, pray, pray.
---
Personal Messages
Graduate, please click here and enter your personal password here to view private messages of encouragement, congratulations, and appreciation submitted for just for you!