Hannah Bush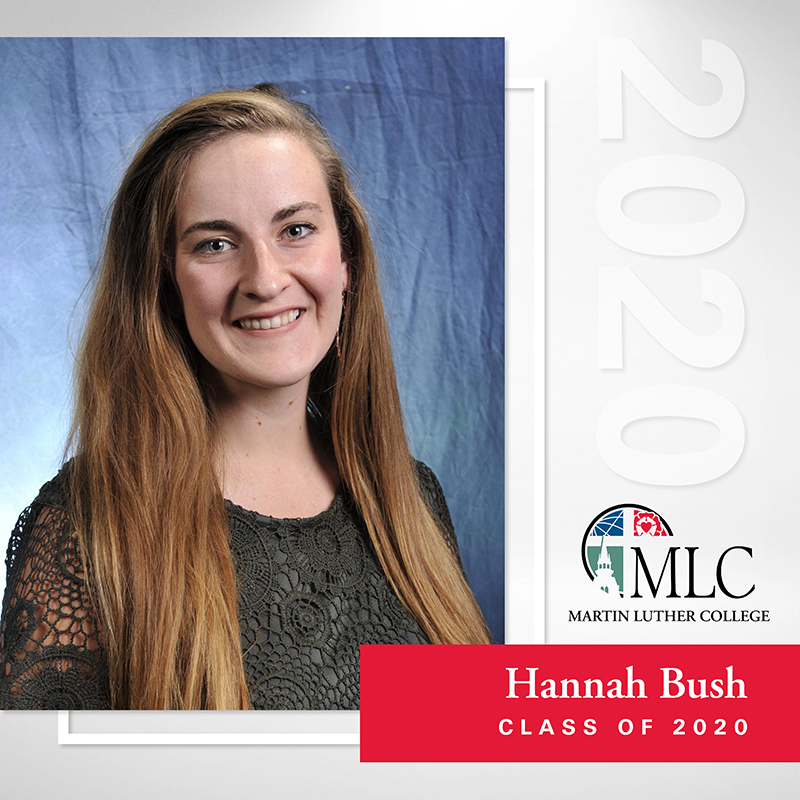 Favorite Bible Passage
For God did not appoint us to suffer wath but to receive salvation through our Lord Jesus Christ. He died for us so that, wheter we are awake or asleep, we may live together with him. Therefore encourage one another and build each other up, just as in fact you are doing. ~ 1 Thessalonians 5:9-11
Activities during time at MLC
RA, Jesus Cares, student council, Bible studies
Special memory from years at MLC
During my second early field experience for staff ministry, I had the opportunity to go with a pastor to visit a homeless man and his aging mother. We pulled into the motel that members of the congregation were paying to shelter this man and his mother during the cold months of winter, and I did not know what to expect. The pastor lead a Bible study on Genesis 3. When we got to the first gospel promise, Genesis 3:15, it was amazing to see this man's heart get a glimps of his Savior.
Favorite class
Parish Visitation: This class focused on practical theology that centered on the nuts and bolts of how to make visits with members who are unable to come to church. College students aren't exempt from loving a good field trip! We got to visit a jail, nursing home, and were visited by a funeral director. Thank you Professor Pope for leading this wonderful class.
Words of wisdom for incoming students
Balance. One of the trickiest parts about college is trying to balance all of the different areas of your life. You all will wear many different hats during your time at MLC from sports to musicals, volunteering to working, art in ministry to ultimate frisbee, student to friend, but don't lose focus of the most important thing! Wear all of your different hats. But while you are balancing, don't stop "fixing your eyes on Jesus, the pioneer and perfecter of your faith. For the joy set before him he endured the cross, scorning its shame, and sat down at the right had of the throne of God" (Hebrews 12:2). You might lose your balance a few times during your college years, but don't lose sight of Jesus. Fix your eyes on him, and don't lose him while you juggle everything else college throws at you. You'll realize you lose your balance much less when you have your eyes fixed on the most important and steady thing.
---
Personal Messages
Graduate, please click here and enter your personal password here to view private messages of encouragement, congratulations, and appreciation submitted for just for you!