Hannah Brohn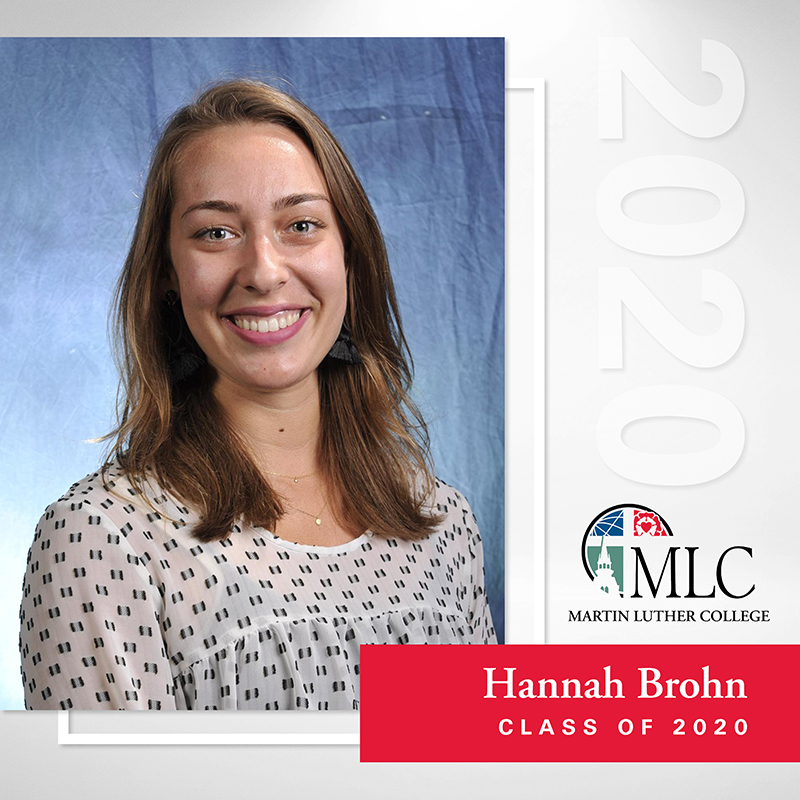 Favorite Bible Passage
Do not be anxious about anything, but in every situation, by prayer and petition, with thanksgiving, present your requests to God. And the peace of God, which transcends all understanding, will guard your hearts and your minds in Christ Jesus. ~ Philippians 4:6-7
Special memory from years at MLC
All of the crazy, wonderful times in the dorms with friends– from Super Bowl parties to sleepovers, binge-watching Netflix on weekends to late night studying on weekdays, failed hair experiments to successful pranks –because those will be memories that will stay with me for the rest of my life.
Favorite class
Straight up, my favorite class out of all the years was Film and Mass Media with Prof. Grubbs. First of all, Prof. Grubbs is one of the best teachers I have ever had in my life. That class also pushed me to explore my ideas about the world and how we perceive society, gender roles, violence, relationships, and more. It doesn't seem like a class that would have much discussion, but Grubbs morphed that class into more than camera angles and lighting; he used that class to explore the messages behind film and media and what they mean to us as students and as future teachers. Plus, the class solidified my identity as a solid feminist 🙂
Words of wisdom for incoming students
It's alright if you're not sure if you really want to be a teacher or a pastor yet. You'll figure it out along the way because you're slowly forming and figuring out your identity throughout college. Be strong, but be flexible and open to growing!
---
Personal Messages
Graduate, please click here and enter your personal password here to view private messages of encouragement, congratulations, and appreciation submitted for just for you!