Emily Schmidt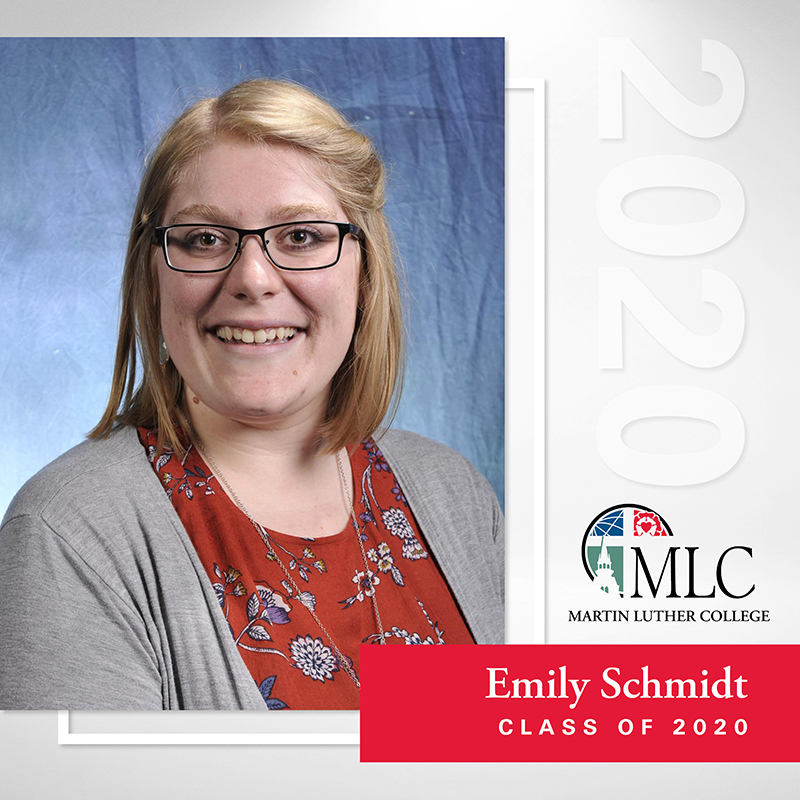 Favorite Bible Passage
Be completely humble and gentle; be patient, bearing with one another in love. Make every effort to keep the unity of the Spirit through the bond of peace. There is one body and one Spirit, just as you were called to one hope when you were called; one Lord, one faith, one baptism; one God and Father of all, who is over all and through all and in all. ~ Ephesians 4:2-6
Activities during time at MLC
College Choir, Wind Symphony, Hosanna Ringers, Concert Choir, Jazz Ensemble, New Friends, MLC Forum – Musicals, Reader's Theatres, One Act Plays, Winter Plays, Children's Theatres (acting, producing, directing, designing, building, ticketing), MLC Forum Board, Praise Ensemble
Special memory from years at MLC
I will never forget the Reformation Anniversary service we held on campus. There were hundreds of people all gathered together to celebrate such an important day of the church year. I was blessed to be able to sing with College Choir as well as accompany various songs for that service, so I was able to see and participate in that way as well. That service was an awe-filled highlight of my years on campus!
Favorite class
I think my favorite class would have to be Lutheran Worship. I loved being able to learn about the history of worship as we know it! As a musician, I can use what I learned when I am picking music for services or even planning worship. I am excited to teach my future students about worship and its history!
Words of wisdom for incoming students
Enjoy your years at MLC! Before you know it, those years will fly by and you will wonder where they went. The professors and staff are here for you, so listen their knowledge and expertise and keep tidbits for your future ministry! Make sure you get involved on campus, too. Those groups and activities will be some of the best memories you will have from college! No matter what, don't forget that MLC is a special place. You're surrounded by hundreds of people who believe the same as you do, and you're training for one of the greatest jobs there is!
---
Personal Messages
Graduate, please click here and enter your personal password here to view private messages of encouragement, congratulations, and appreciation submitted for just for you!