Dillon Solomon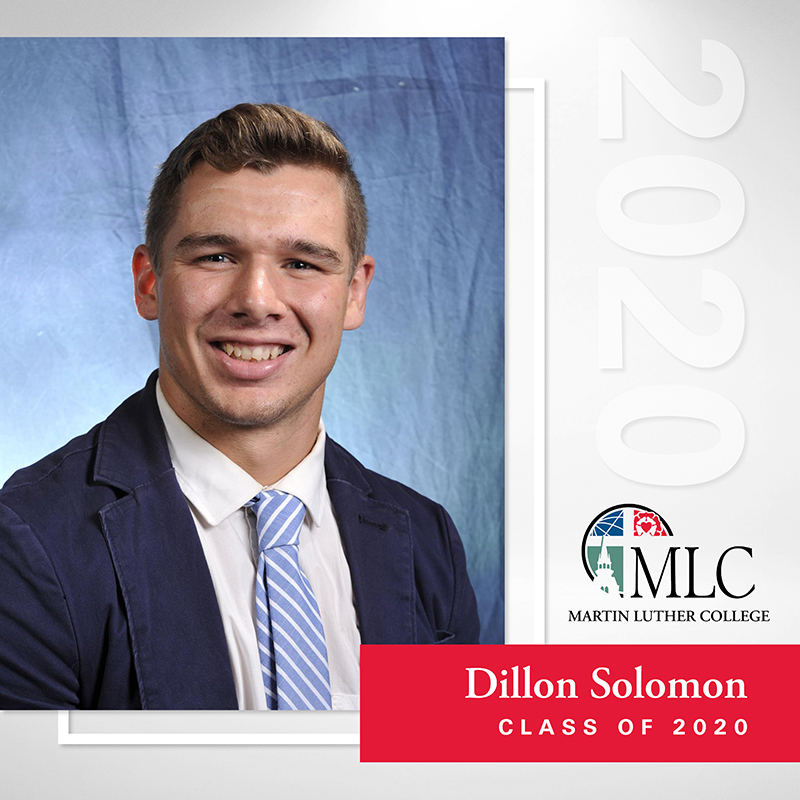 Favorite Bible Passage
He saved us, not because of righteous things we had done, but because of his mercy. He saved us through the washing of rebirth and renewal by the Holy Spirit ~ Titus 3:5
Activities during time at MLC
Baseball, Cross Country, Student Council, STEM Club, Wrestling Club
Special memory from years at MLC
Waking up early to workout and seeing a lot of the professors and local WELS members down in the Fitness Center will always stick in my mind!
Favorite class
Teaching Reading/Children's Literature/Language Arts Block with Professor Roux. I always enjoyed my time in that class, whether it was teaching lessons myself, doing activities that were meant from primary-age students, or listening to a read-aloud.
Words of wisdom for incoming students
Take advantage of your time with your brothers and sisters in Christ. Get involved in activities with them, go to morning and evening chapel as much as possible, and get to know everyone on campus. It's not often you get to be gathered with over 700 other like-minded Christians for extended periods of time. Not only is this a great opportunity to be encouraged and grow in your faith, but the relationships you build here will last an eternity.
---
Personal Messages
Graduate, please click here and enter your personal password here to view private messages of encouragement, congratulations, and appreciation submitted for just for you!