Daniel Gensmer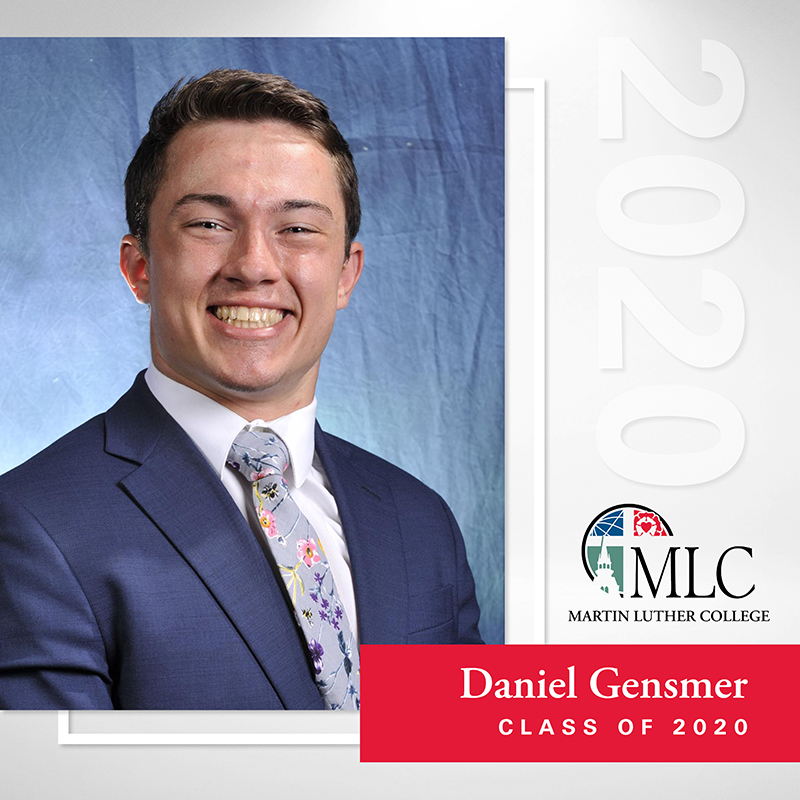 Favorite Bible Passage
For I am convinced that neither death nor life, neither angels nor demons, neither the present nor the future, nor any powers, neither height nor depth, nor anything else in all creation, will be able to separate us from the love of God that is in Christ Jesus our Lord ~ Romans 8:38-39
Activities during time at MLC
Football, New Friends, Praise Ensemble, Talent Show Dad Jokes
Special memory from years at MLC
I got to deliver my senior chapel devotion back in October, and that was special in and of itself, but even more than that, my family (who lives in Florida) made the whole trip up to MLC to surprise me by attending that chapel! More than that it was the first time they were able to make it up to MLC!
Favorite class
Greek Comedies was one of my favorite classes at MLC. I finally got to learn the relaxed side of Professor Schmidt since I had survived freshman Greek. It gave us new texts which actually gave us the chance to expand our greek skills outside the biblical texts.
Words of wisdom for incoming students
Keep a Pizza oven in your dorm right next to where ya keep your bible.
---
Personal Messages
Graduate, please click here and enter your personal password here to view private messages of encouragement, congratulations, and appreciation submitted for just for you!