Corey Paske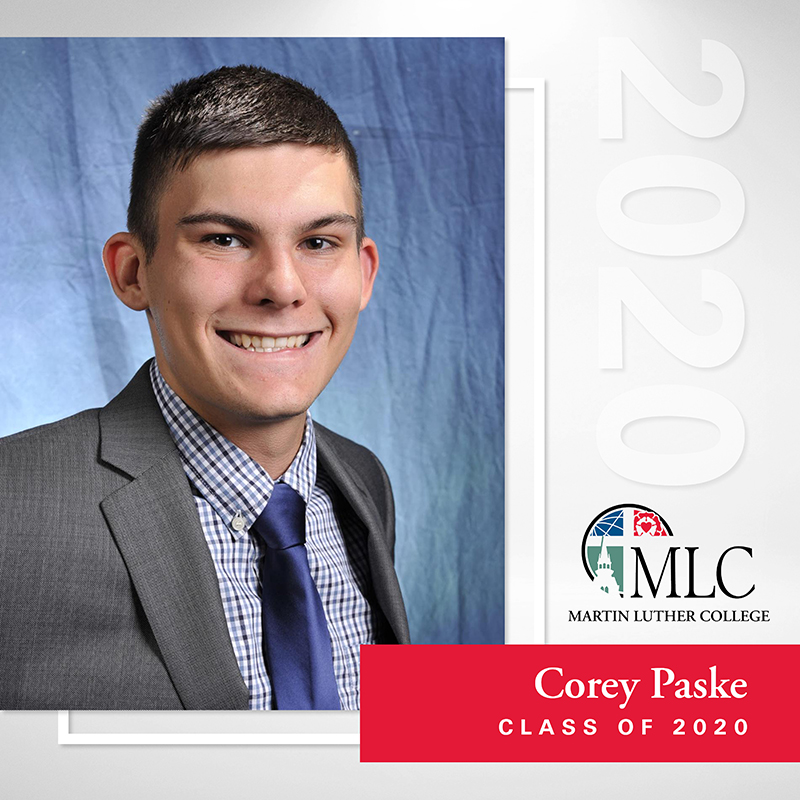 Favorite Bible Passage
For I am not ashamed of the gospel, because it is the power of God that brings salvation to everyone who believes: first to the Jew, then to the Gentile. ~ Romans 1:16
Activities during time at MLC
Children's Theater, Ultimate Frisbee, Manerchor,
Special memory from years at MLC
One memory that will stick with me, is when we were able to gather an Ultimate Frisbee team and traveled to play in Mankato against other colleges. We were not the greatest team, but had so much fun playing this game we worked hard to get good at, and eventually though God's blessing we were able to get a win against another college team. Then the next year when we were able to be invited back to the tournament, we worked hard, and were in many of the games with good teams. Even though we got some wins, the best part was playing the game we worked hard at with friends.
Favorite class
My favorite class was Interpersonal Communication with Professor Paustin. Learning more about how people communicate and looking at the different ways messages are sent and received by people was fascinating. Professor incorporated real applications and activities where we were able to put those interesting theories into practice. In the end, the service-learning project that my group did was awesome. We went to the nursing home in New Ulm and were able to do a devotion, sing some hymns, and do some crafts with the older generation and younger kids, to connect those two different worlds.
Words of wisdom for incoming students
All the lesson planning, language learning, and stress of classes can get overwhelming. When times get hard and homework piles up remember that God has given you comfort in many different ways at MLC. He provides family and friends, fun activities and groups to be apart of, and most importantly his word in the morning, evening, and compline chapels. These all blessings that add to your college experience and paint the picture of those four or five years in New Ulm.
---
Personal Messages
Graduate, please click here and enter your personal password here to view private messages of encouragement, congratulations, and appreciation submitted for just for you!