Clayton Fury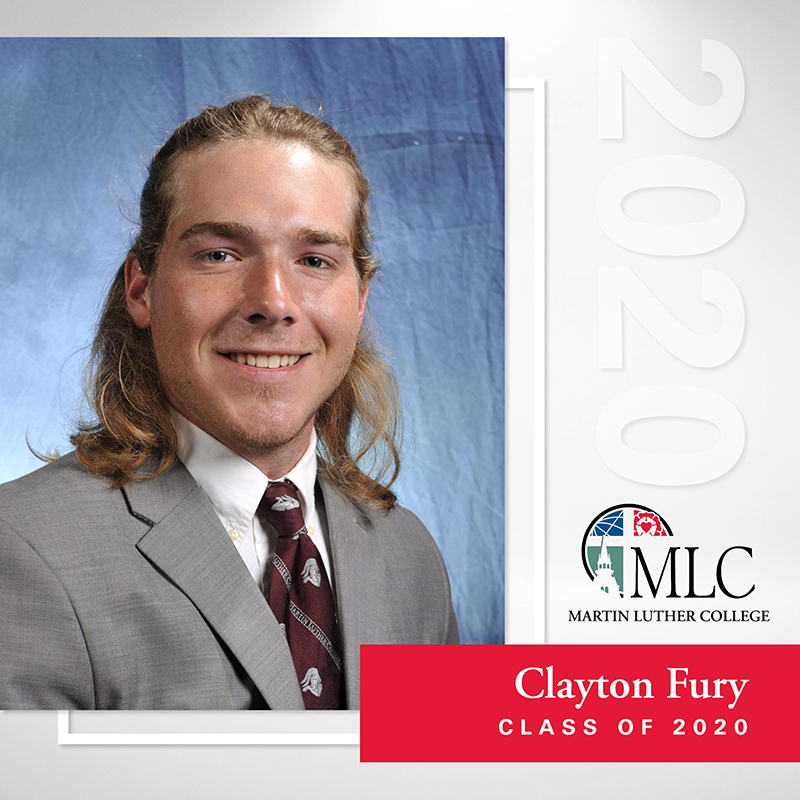 Favorite Bible Passage
But he was pierced for our transgressions, he was crushed for our iniquities; the punishment that brought us peace was on him, and by his wounds we are healed. ~ Isaiah 53:5
Activities during time at MLC
Football – all 4 years, Baseball – Sophomore year, SAAC – all 4 years, CoS – Junior and Senior year, SPaM ball champions – junior year, MLC hockey team, RA – Senior year
Special memory from years at MLC
My Junior year in football we won our first of 2 UMAC conference championships. To achieve this goal was something truly special. My freshman year we lost every single game, 0-10. In just 2 years we completely re-wrote the script and went undefeated in conference play for the next 2 seasons. The way that my brothers on the team and I were able to turn this program around was something I'll never forget.
Favorite class
Symbolics class was my favorite class at MLC. I truly loved this class because we got to discuss the doctrine found in the creeds and confessions in a truly deep way. There is nothing more intriguing and rewarding then discussing points of doctrine with 20 brothers.
Words of wisdom for incoming students
With every single one of your classes, use the mindset that you are not only preparing yourself for ministry, but you are preparing to serve God's children. If you treat your classes as preparation for the souls that you will be called to serve, your daily work of preparation for ministry becomes far more important to you.
---
Personal Messages
Graduate, please click here and enter your personal password here to view private messages of encouragement, congratulations, and appreciation submitted for just for you!