Cassandra Doering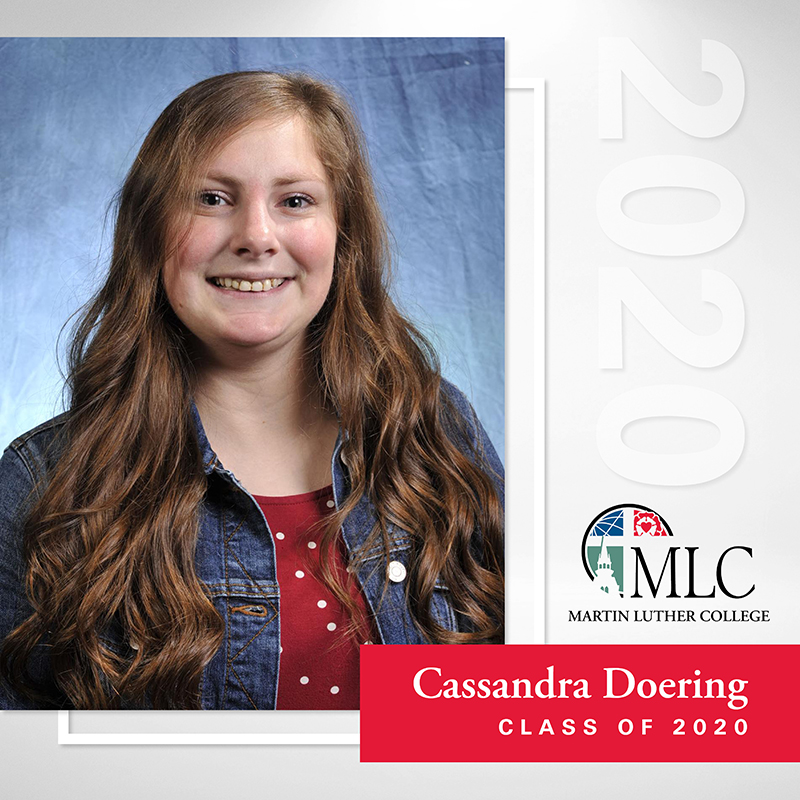 Favorite Bible Passage
For I am convinced that neither death nor life, neither angels nor demons, neither the present nor the future, nor any powers, neither height nor depth, nor anything else in all creation, will be able to separate us from the love of God that is in Christ Jesus our Lord. ~ Romans 8:38-39
Activities during time at MLC
During my time at MLC I was so thankful to be in choir, be a student ambassador, a resident assistant, and work for the athletic department taking tickets for the athletic events and to play four years on the softball team. I was also blessed to have received an emergency call last year to St. John's in Montello, Wisconsin.
Special memory from years at MLC
Wow, where to start honestly.
In the six years since I started at MLC, I have made so many amazing memories. Meeting my best friends, going to school with my sister and two of my cousins, learning and growing in my faith and in my abilities as a teacher, four years of unforgettable softball memories, going to Florida with my team, grade school basketball tournaments, seeing all my friends start their ministries, and so many in between.
One of my absolute favorite things about Chapel is when the organ drops out and everyone starts singing Acapella. One time I remember we started singing Acapella and I happened to look out the window and see it start to snow right at that moment.
My senior year my friend Lydia and I were walking from Augustana to Centennial and we were going to take a cute picture in the snow and it somehow turned into me throwing snow at her and getting tackled….the best part is that this all happened in mid-April!
Emergency teaching has to have been one of the most amazing experiences I have ever had and if you have the opportunity, I would highly recommend it!
Even this super-super senior year, and all the craziness that it brought. I wouldn't change it for the world."
Favorite class
I think my favorite classes would have to be the early childhood classes that I took. The early childhood classes tend to get taken by the same class of people at the same time so all of the early childhood majors tend to get really close during all of the classes that we have together.
Words of wisdom for incoming students
Enjoy the time at MLC, and don't take New Ulm for granted. I remember back to my freshman orientation weekend pulling into New Ulm, seeing the Willkommen sign and being so nervous, but also excited. With all the craziness that has happened at the end of this year, I wish I would've known that the last time I was going to drive up to that sign was going to be it.
---
Personal Messages
Graduate, please click here and enter your personal password here to view private messages of encouragement, congratulations, and appreciation submitted for just for you!