Carissa Friebe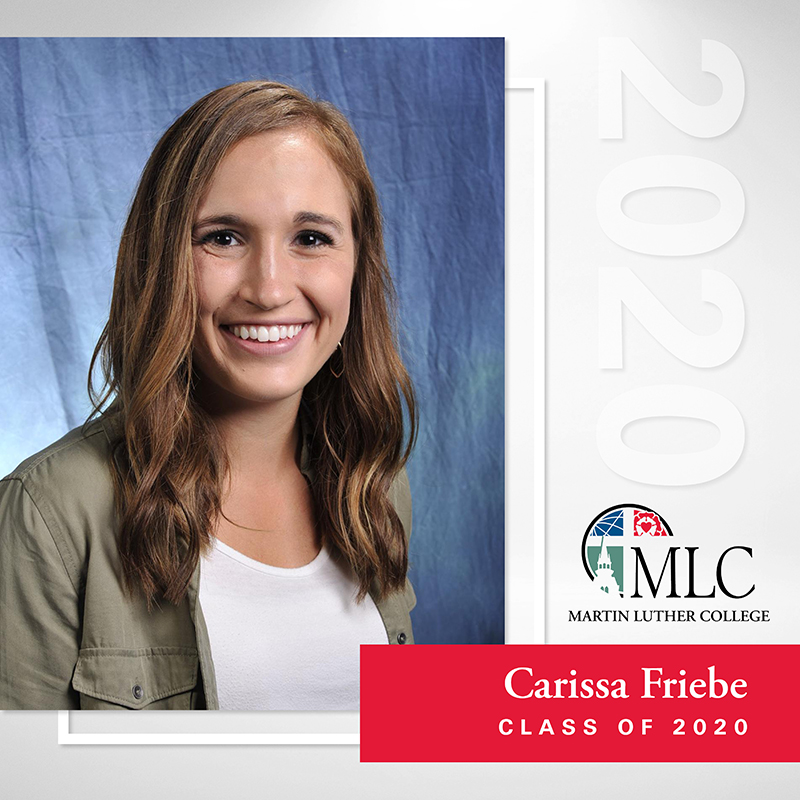 Favorite Bible Passage
But the LORD stood at my side and gave me strength, so that through me the message might be fully proclaimed and all the Gentiles might hear it. And I was delivered from the lion's mouth. ~ 2 Timothy 4:17
Activities during time at MLC
Basketball, Soccer, Intramural Sports
Special memory from years at MLC
My senior year of soccer we got to play on Bethany's new turf field, under the lights. It was their home opener and, in front of a large crowd, we came from behind and beat Bethany 2-1.
Favorite class
Teaching Literacy in Early Childhood with Prof. Loomis would probably be my favorite, but honestly, all my early childhood classes with Profs. Mehlberg and Loomis were tremendous.
Words of wisdom for incoming students
During your college years, there are so many things that fight for your attention: school work, jobs, sports, friends, etc. It can be easy to get caught up in trying to get everything done. But don't forget to take a step back and enjoy it. Take time to make memories with your friends. Those are the things that you will remember. 
---
Personal Messages
Graduate, please click here and enter your personal password here to view private messages of encouragement, congratulations, and appreciation submitted for just for you!