Andrew Eggers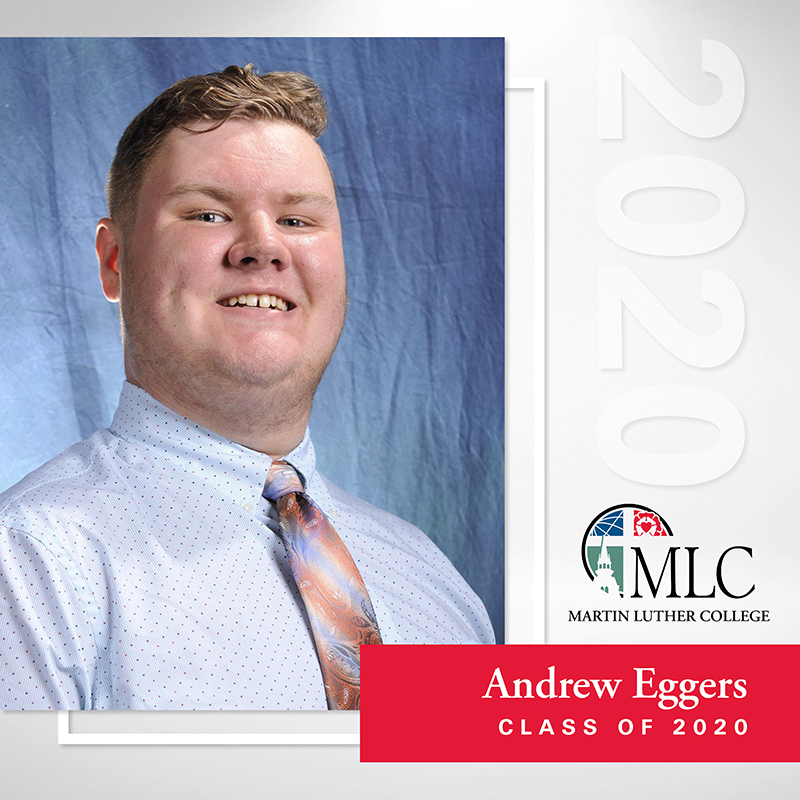 Favorite Bible Passage
Never will I leave you; never will I forsake you.' So we say with confidence, 'The Lord is my helper; I will not be afraid. What can man do to me? !~ Hebrews 13:5b-6
Activities during time at MLC
MLC Knight Life club, Forum, College Choir, Ultimate Frisbee,
Special memory from years at MLC
My sophomore year commencement concert. We sang "God Be With You Till We Meet Again" for Dr. Moldenhauer because it was his last commencement concert. It was a positively memorable song.
Favorite class
Foundations of History w/ Prof. Koelpin and Prof. Baganz This class was my favorite because it fostered a stronger love of history for me and it also helped me grow my writing ability. Overall it was a very fun class because everyone wanted to be there and share their enthusiasm for history.
Words of wisdom for incoming students
Get busy with fun and enriching activities. The best way to meet several different people is through campus participation. Also, leave your dorm. You can only enjoy so much being in your dorm all day. No matter the weather, something exciting is happening outside that dorm door.
---
Personal Messages
Graduate, please click here and enter your personal password here to view private messages of encouragement, congratulations, and appreciation submitted for just for you!