Adam Kock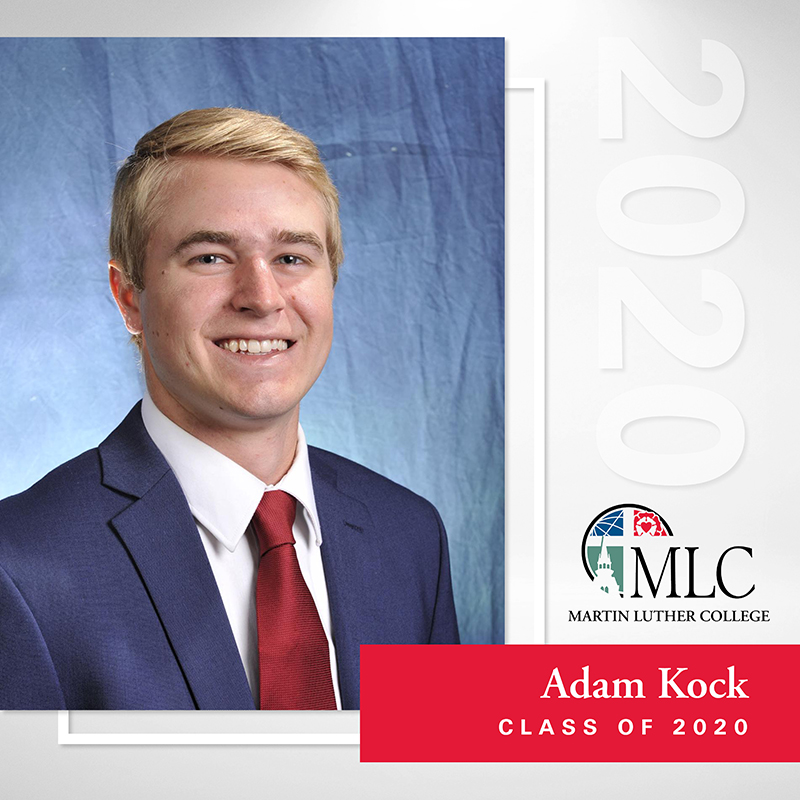 Favorite Bible Passage
When the perishable has been clothed with the imperishable, and the mortal with immortality, then the saying that is written will come true: "Death has been swallowed up in victory. Where, O death, is your victory? Where, O death, is your sting? ~ 1 Corinthians 15:54-55
Activities during time at MLC
I played baseball all four years at MLC. 2018 3v3 intramural champs. 2019 SPaMBall champs. Knightvision commentator senior year. Proud CoS member.
Special memory from years at MLC
One of my favorite days from my time at MLC was my junior year when the group of SPaM guys in my class won the SPaMBall tournament at the end of the year. It was a lot of fun to play alongside them and work together to win the championship! And since there was no tournament this year I guess that makes us the winners 2 years in a row!
Favorite class
The Plato Greek elective with Balge. There were only 7 guys in the class with Dean Balge so it was a lot of fun hearing his stories and jokes. And as a joke we dressed up the day that Socrates died in the class.
Words of wisdom for incoming students
Enjoy every single day at MLC, even the bad ones, and have fun. It wasn't until this quarantine that I realized how special MLC really is to me and how much I'm going to miss all the fun days and nights that we had there.
---
Personal Messages
Graduate, please click here and enter your personal password here to view private messages of encouragement, congratulations, and appreciation submitted for just for you!